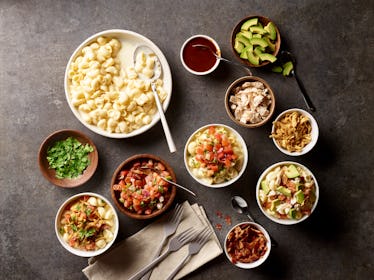 Panera Just Dropped New Mac & Cheese Toppings, Including Bacon & Avocado
Panera
There are very few things in life that make me happier than Panera Mac n' Cheese, and I'm sure most (sensible) folk would probably agree. But on Thursday, Sept. 13, the sandwich chain announced something totally game-changing: it's now allowing customers to customize their favorite cheesy dish. Not only are bacon and pulled chicken potential options, but there's also avocado and even pico de gallo toppings. So, if you haven't already given it a go, Panera's new customizable Mac & Cheese is literally off-the-charts. You absolutely will not be disappointed.
Beginning Thursday, Panera's new "Build Your Own Mac" experience allows guests who place orders online, through the app, or in-store to craft their own mac & cheese. According to a press release, you can select up to two premium toppings — including smoked pulled chicken, bacon, or avocado — and you can pick three flavorful accompaniments, including pico de gallo, zesty barbecue sauce, frizzled onions, and fresh cilantro. There are so many tasty options. Plus, if you happen to be hosting a company meeting or a family party, you can even order Panera Catering's Build Your Own Mac Bar. TBH, that sounds like my dream birthday celebration.
If you don't feel like building your own Mac creation, on the other hand, you can choose from three delectable combos. First and foremost, there's the Baja (aka my favorite), and according to a press release, it includes avocado, pico de gallo, and cilantro. It kind of resembles an extra creamy guacamole, if you know what I mean. The BBQ Chicken, on the other hand, features juicy pulled chicken, tangy barbecue sauce, and crunchy frizzled onions, and let me tell you, it's like a Southern barbecue in a cup. Finally, there's the Bacon Mac, and it's almost exactly what it sounds like, including bacon, bacon, and — you guessed it — even more crunchy, salty bacon. It sounds too good to be true, but trust me, it's oh-so-real.
I was able to speak with Tom Sadler, Panera's head chef and VP of product development, at Panera's Mac Bar unveiling on Wednesday, Sept. 12. In our conversation, Sadler expressed his excitement about the fact that customers can make this totally their own. By combining the creamy Mac base with something like crunchy onions to add texture, for example, or the barbecue sauce for sweet-tangy flavor, it totally evolves into an entirely new creation.
"People love mac & cheese — especially Panera Mac & Cheese — and what's better than being able to enjoy it in your own way?" Sadler says. "We're a culture of personalization, and we were finding that people in the café were actually already doing it on their own."
Panera Mac & Cheese has always been one of life's greatest pleasures, but now, you can eat it anyway you want, whether that means it's with crunchy bacon, creamy avocado, or tangy barbecue sauce. There are so many options and literally 80 different possible combinations (yes, you heard me correctly) so getting your hands on one of these babies is vital. Oh, and a side note: if you're not sure what I want for my birthday, it's a Build Your Own Mac Bar. No doubt about it.