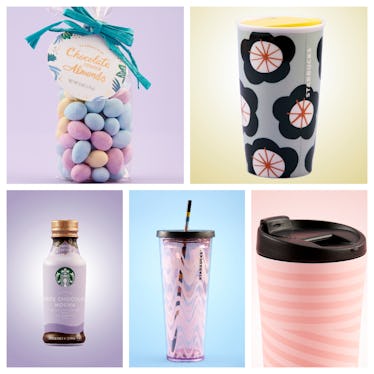 Here's Where You Can Buy Starbucks' Millennial Pink Spring Merch Collection
Starbucks
I am always super down for a fresh start, and since spring is finally here, I'm currently feeling hella festive. Like, I am literally embodying the Easter Bunny right now. Saying goodbye to freezing weather, heavy coats, and dark colors is not the least bit devastating in my book, and I am currently welcoming (semi) warm weather, light jackets, and bright colors with open arms. So if you're also in a springy mood and in dire need of pastel accessories, here's where to buy Starbucks' spring merch. All of it is so cute and it'll quite honestly make you feel like a damn butterfly.
OK... so I know I'm trying to save up some of that good old cash money right now, but Starbucks just released a plethora of seasonal products, and I am so jazzed about all of it. In terms of hot beverage tumblers, Starbucks is selling some that are opaque with light pink stripes, and others that are floral. One of the tumblers is prime for cold drinks, and it comes in a transparent, millennial pink, complete with a straw... it's super cute. The best product, though, is the bag of colorful chocolate-covered almonds, which are perfect for those seasonal Easter candy cravings.
These new spring products are total must-haves, and according to a press release, they're currently being sold in all Starbucks restaurants. Items do vary by location, per the release, but if you're located in a big city, you've probably noticed that there's pretty much a Starbucks on every corner. There's no doubt in my mind you'll eventually end up finding what you're looking for without going through too much trouble.
My number one favorite product in the entire line of Starbucks' spring merch is arguably the transparent cold beverage tumbler, which is mostly attributed to the fact that iced coffee is my lord and savior. Yep, it's true — I worship iced coffee, and I am not ashamed of it in the slightest. Although I basically drink the frozen beverage year-round, it now actually happens to be seasonally appropriate, and sipping it from a cutesy light pink cup is kind of my dream come true. There is absolutely no doubt in my mind this will be my main accessory this season — so if you see me without it in my hand, you better be shocked.
In the name of spring spirit, Starbucks also just released a ready-to-drink White Chocolate Mocha Latte, appropriately contained in a pastel purple bottle. Per a press release, it's going to be sold in grocery stores nationwide for $2.79, and if I'm being completely real with y'all, it's about to be my newest guilty pleasure. Who can resist that pretty purple color and white chocolate mocha flavor? If anyone wants to give me an Easter basket this year, I'll be expecting a bottle of White Chocolate Mocha Latte... please and thank you. Also, totally feel free to correct me if I'm wrong, but I am relatively sure that this is what Lizzie McGuire was really talking about when she famously uttered, "this is what dreams are made of." Am I wrong?
Since Starbucks unfortunately no longer has an online store, fans and coffee drinkers alike will solely be able to purchase this merch, aside from the White Chocolate Mocha Latte, which is sold in grocery stores. Although items sold in Starbies stores vary by location, I have complete faith in all of you to eventually find everything you need. If I don't get any of these colorfully adorable items in an Easter basket, you'd better believe that I'm expecting it as my May Day present. All of these accessories are super cute, and TBH, they provide me with the #SpringAesthetic of my dreams.