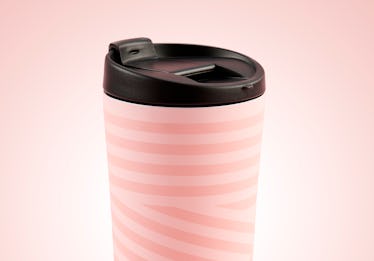 Starbucks Is Selling Millennial Pink Merch For Spring & It's So Cute
Starbucks
Although it doesn't feel like spring has sprung quite yet, one of the single most beautiful (and the most long-awaited) seasons of the year has finally arrived. And to show its seasonal spirit, Starbucks has officially come out with some pretty springy accessories that are sure to make you feel like you're in bloom, just like the flowers around you. But out of all of the new accessories, my top favorite is Starbucks' millennial pink spring tumbler. All of their new accessories are truly to die for, though, and my wallet is in high key danger.
Whether you have an absolutely unbearable commute to work or if you just need to take little sips of coffee throughout the day to protect your sanity, having a trusty tumbler is definitely useful. And if I'm being real with you, what's better than a millennial pink tumbler? In an absolutely lovely shade of opaque pastel pinks, Starbucks' new tumbler is super festive for spring, and it's seriously what I need in my life right now. I might actually have to drink more coffee than I already do so I can match it with my outfit all day long... but I can't quite say that's a bad thing, is it?
The striped pink tumbler can currently being found in Starbucks stores nationwide in addition to several other new springy accessories (items vary by location). One of my other new top favorites happens to be the transparent pink tumbler, ideal for cold beverages (pictured below). It will not be long before I can call it home to all of my morning smoothies, iced coffee creations, and of course, my protein shakes. Just look at it in all of its adorableness. I cannot — in any way, shape, or form — handle all of this springy, festive joy. Even though I'm really trying to limit my spending right now, I can't wait to buy one.
If you want to give off some major flower power vibes instead, make sure to take a look at Starbucks' new floral tumbler. Perfect for any hot beverage or even for some soup, the floral tumbler is a little less colorful, but it's 10 times earthier. There's pretty much no way I could resist buying one of these, because my flower child heart is actually about to explode into a million little pieces. Somebody, please save me from myself.
If you'd rather get yourself some ready-made spring fun, definitely make a point to try out Starbucks' latest and greatest ready-to-drink White Chocolate Mocha Latte. Per a press release, the new beverage comes in an enchanting pastel purple bottle — and I don't know about you, but it totally matches my #SpringAesthetic. The White Chocolate Mocha Latte is going to be sold in grocery stores, per the release. It's truly about to make my mornings a dream come true.
Since Easter time is around the corner, there's a likely chance you're feeling nostalgic for Jordan almonds. In this case, I highly recommend that you make a point to pick up some of Starbucks' limited-time chocolate-covered almonds, because they're so reminiscent of those delectable Jordans. Starbucks' version look like tiny, colorful robin eggs, and they're so perfect for every one of your Easter baskets this season.
Whether you're trying to fill an Easter basket, a May Day package, or if you're just trying to #TreatYourself in honor of springtime, Starbucks' adorably festive tumblers, drinks, and candies are sure to bring springy cheer to anyone and everyone. Pastel colors are totally cute right now, and each of these products are a beyond-fantastic reminder that winter is finally over, at long last.