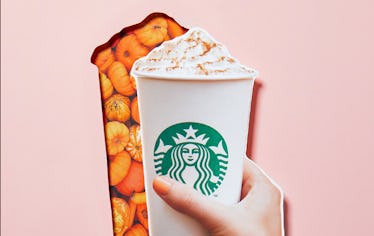 A 40-Ounce Bottle Of Starbucks' Pumpkin Spice Latte Now Exists, So Bring On The PSL Overload
Twitter/Starbucks
Now that fall is officially here and temperatures have finally dipped below 80 degrees, I'm proudly waving my basic flag and touting the most basic of fall beverages: the Pumpkin Spice Latte. While the season of cozy sweaters, crunchy leaves, and warming refreshments is just beginning, your wallet might have already taken a beating from the PSL's early return this year on Aug. 28. If you're trying to save and get more pumpkin-laced liquid for your buck in the coming months, here's where to buy a 40-ounce bottle of Starbucks' Pumpkin Spice Latte. Your body is going to be here for all the peak fall sips, which you can enjoy at just a fraction at the price all autumn long.
I'll admit that I was pretty ecstatic when Starbucks dropped its coveted festive refreshment in late August. At that point, I was more than ready to bid adieu to humid summer temps and hello to my favorite time of the year. Despite the fact that I was still drinking iced coffees like no one's business and haunting each and every establishment with good air conditioning, my taste buds couldn't help but be excited for Starbucks to herald the start of sweater weather with the return of the PSL. My bank account? Not so much. Considering that a Grande (16-ounce cup) of pumpkin spice heaven can set you back over $5 at select Starbucks locations, I was dismayed to discover that I was spending more on my PSL habit than Ubers and groceries combined. Luckily for me and all other basic Bettys, Walmart is saving the day by offering an enormous bottle of the fall brew for just $4.53, according to Delish.
For a limited time, the budget superstore is selling 40-ounce bottles of the good stuff for *gasp* less than the cost of a 16-ounce latte. I did the math, and you're literally getting 2 and a half times the amount of liquid pumpkin and spice for the price of a made-to-order PSL from a Starbucks barista.
According to Delish, the giant bottles contain about five servings of coffee, so one container can last throughout a work week of mornings. Personally, I'd recommend bringing a bottle to work in case the PSL cravings strike during a busy afternoon. Rather than having to grab a coffee break and waiting in a long line for an expensive PSL, save time and money by warming up a cup of the allspice-infused sips in the comfort of your office. Plus, you can get your PSL cravings satisfied during lazy weekend mornings without getting out of your pajamas and heading to your local Starbucks. Simply pop a cup in the microwave, and you've got a steaming hot PSL to sip on all afternoon. It's a win-win situation.
The one caveat? Unlike the Pumpkin Spice Latte a barista will craft for you at a mortar and brick Starbucks, you won't be automatically getting your fall sips crowned with a creamy blanket of whipped cream. In this situation, I'd turn to Whole Foods' PSL whipped cream (yes, this really exists) to top off your steaming fall drink with an extra dose of the autumnal flavor you know and love. Happy sipping!