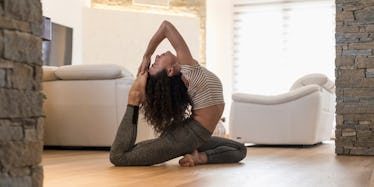 Here's What Your Favorite Yoga Pose Reveals About Your Personality
Every yogi has a favorite pose that they're literally itching to do all class long, no matter what the flow is. You know the one: It's that one pose you feel most comfortable in, are really freaking good at, and that makes you feel like an absolute goddess. Maybe I sound a little extra right now, but your favorite yoga reveals a lot about your personality, so embracing your go-to asana is nothing to be ashamed of.
As a yoga teacher myself, I notice that my practice evolves depending on where I am in life, so you would think my favorite pose would shift every now and then. Some seasons, I'll be really into intense, sweaty, and core-centered flows, and other times, restorative yin classes are all my body wants.
No matter what a given yoga class is like, though, I can pretty much always say with confidence that backbends are my sh*t — through and through. King pigeon is my preferred posture, and though the dynamics of the pose are always changing, my love for it always stays constant.
While I know it's equally important to practice both the poses that I dislike and the poses that I love, witnessing my strengths, weaknesses, and personal growth through my dearest pigeon pose has been truly humbling, empowering, and fascinating the whole way through.
So, what's your favorite pose? You might just learn a bit more about yourself embracing your most-loved asana.