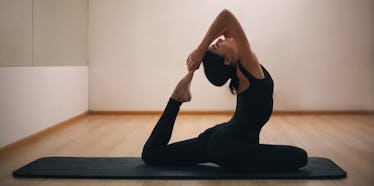 This Yoga Flow Will Help You Connect With Your Emotions When You Feel Overwhelmed
There are many uncomfortable emotions that come up throughout life that you'd probably rather not deal with, that you'd prefer to shove into a drawer to be dealt with at another time. Well, imagine that imaginary drawer resides in your hip flexors, and that all your stagnant emotions are slowly building up within your hips. Honestly, I feel a bit of tightness and tension just thinking about it, and that's why including yoga poses for hips in my classes as a teacher (and in my personal practice) is so, so important.
The way I see it, hip-opening poses in yoga are like a mild form of therapy. For many people, these types of poses force buried emotions to bubble to the surface, allow you to experience all the feels, and ultimately, you gain a newfound ability to simply let that sh*t go.
In an interview with Shape, Rachel Allyn, Ph.D, a licensed psychologist in St. Louis, talked about why certain yoga poses can make you cry, and inevitably, the conversation turned to yoga poses that target your hips. She explained that, as you get deeper into your body tissue during those restorative hip-openers, you might start to tear up because of the sweet release that these asanas can provide your body with. She explained,
A well-sequenced class is made to push you deeper, and elicit that release. I have some clients who wonder about what's wrong with them. I think it's great! You're getting deep, you're getting emotions out
Though hip-openers might not feel totally luxurious at first, if you breathe through the uncomfortable sensations, you'll soon get to a place where these poses serve your body in every way. Try this hip-centered yoga flow to help you connect with your innermost emotions, breathe through the hard stuff, and release whatever it is that isn't contributing to your growth.