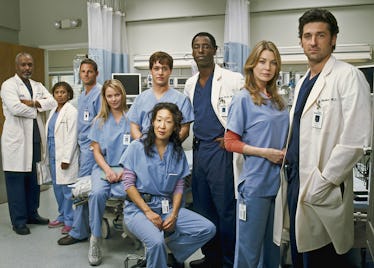 Here's What The 'Grey's Anatomy' Cast Looked Like When The Show Started Vs. Now
ABC
Grey's Anatomy premiered way back when on ABC on March 27, 2005. The iPhone didn't even exist then, YouTube had only been around for one month, and "Candy Shop" by 50 Cent was at the top of the Billboard charts. So much has changed in the last 13 years, including the staff of Seattle Grace (er, Grey Sloan Memorial) Hospital. It's time to take a nostalgic peek at what the Grey's Anatomy cast looked like when the show started versus now, as the long-running medical drama nears the end of its 14th season.
Much of the Grey's cast has come and gone, but their legacies surely live on. While a handful of the original gang from Season 1 have stood the test of time (even after their characters went through so much), the Shondaland hit will always be a part of their career histories.
Ellen Pompeo (Meredith Grey)
Aside from the fact that she used to have a side-swept bang, Ellen Pompeo doesn't look a day over intern. Before she landed the role of a lifetime with Meredith Grey, Pompeo was best known for playing Luke Wilson's love interest in the 2004 collegiate comedy Old School. Now she's one of the biggest TV's biggest actresses (not to mention, highest-paid) and she hasn't jumped ship yet, although her character did almost perish in a ferry crash so excuse that choice of words... "Why walk away from a hit?" she remarked to Variety last year. I get it.
Chandra Wilson (Miranda Bailey)
Oh, Bailey. What would Grey's be without you? Chandra had smaller TV roles and parts in movies like Philadelphia and Lone Star before becoming tough-as-nails doc Miranda.
Justin Chambers (Alex Karev)
When he started on Grey's first season, former model Justin Chambers probably looked familiar to rom-com fans from his role as Massimo Lenzetti in 2001's The Wedding Planner. Chambers has stayed true to the show that skyrocketed him to household name status since the beginning.
Katherine Heigl (Izzie Stevens)
Cindy Ord/Getty Images Entertainment/Getty Images
Katherine Heigl exited Grey's Anatomy in the show's sixth season and the world said goodbye to her character Izzie Stevens for good. Her dramatic departure received a lot of attention after she notoriously withdrew her name from Emmy contention in 2008 because she felt the material she was given didn't warrant a nod. Heigl has appeared in dozens of projects since then, including TV dramas Doubt and State of Affairs. What's next? You can catch her in the upcoming season of Suits in the role of Samantha Wheeler.
Jessica Capshaw (Arizona Robbins)
Evan Agostini/Getty Images Entertainment/Getty Images
Jessica Capshaw, daughter of actress Kate Capshaw, has been acting since the mid-'90s. Before playing Arizona, she starred on the legal drama The Practice and recurred on The L Word.
Patrick Dempsey (Derek Shepherd)
Clemens Bilan/Getty Images Entertainment/Getty Images
R.I.P. McDreamy. This roundup would not be complete without the perfectly coifed surgeon. Dempsey was one of the most established actors in the Grey's cast when it premiered, known for '80s teen faves like Can't Buy Me Love and Loverboy. The actor laid Derek Shepherd to rest in Season 11.
Jesse Williams (Jackson Avery)
Jesse Williams joined the cast of Grey's Anatomy in 2009. The actor, who has since appeared in films like Band Aid and The Cabin in the Woods, didn't have any major roles until 2008's The Sisterhood of the Traveling Pants 2.
Sandra Oh (Cristina Yang)
Pascal Le Segretain/Getty Images Entertainment/Getty Images
We miss you, Cristina. Sandra Oh was a Seattle Grace OG, playing Cristina Yang from Season 1 until Season 10. Oh worked steadily before nabbing the gig — she could be seen in films like Under the Tuscan Sun, Big Fat Liar, and Sideways. She's currently, um, killing it on the critically acclaimed BBC drama Killing Eve.
Sarah Drew (April Kepner)
Carlo Allegri/Getty Images Entertainment/Getty Images
Sarah Drew stepped on the Grey's scene as April in Season 6. At the time Drew was best known for her work on Everwood and her stint on Mad Men.
Kevin McKidd (Owen Hunt)
Scottish actor Kevin McKidd has been playing Owen Hunt for a decade. He wasn't always a TV doc — McKidd was in period HBO period drama Rome from 2005 to 2007. While he's appeared in dozens of films, of his most memorable early roles was 1996's Trainspotting.