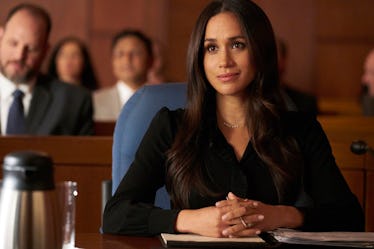 This 'Suits' Season 8 Teaser Doesn't Include Meghan Markle, But There's Another Huge Star
Ian Watson/USA Network
Let's all take a moment of silence to mourn the loss of Meghan Markle on USA's Suits. No, her character Rachel Zane isn't dead; she's just leaving the show to live a life of royal happiness with Prince Harry. Markle has been one of Suits' main female leads for seven seasons, and now that she's leaving, the show has a massive hole to fill. But luckily, they've already found a solution: The Suits Season 8 teaser revealed that Katherine Heigl is joining the team at Specter Litt, and she's going to start some major drama along the way. If I can't have Meghan Markle, Katherine Heigl is a more than acceptable replacement.
USA wasted no time giving fans a sneak peek at Season 8. The teaser aired immediately after the two-hour Season 7 finale on Wednesday, April 25, and I'm so thankful for it, because I was seriously wrecked after watching Markle and her co-star Patrick J. Adams say their goodbyes. The Season 8 teaser may be short — I'm talking less than 20 seconds short — but it definitely reassured fans that things aren't going to change too much now that Rachel Zane and Mike Ross are gone. Suits may look a little different in Season 8, but it will still feature the same fast-paced, morally-ambiguous legal drama that fans have come to love.
In the short teaser, fans are introduced to Samantha Wheeler, the driven attorney who will stop at nothing to challenge Harvey Specter (Gabriel Macht). Heigl's Samantha is coming into the firm at a particularly stressful time for Harvey — he's figuring out how to merge two major law firms plus dealing with Mike Ross' departure — so it's clear that they're not going to be buddy-buddy just yet.
"Who the hell are you?" asks Harvey. "Her name is Sam Wheeler," replies Alex (Dule Hill). "Truth be told, Alex, I prefer Samantha," she says, cold as ice. Samantha is not messing around, and she wants everyone to know that she's about to run this sh*t. In the second half of the trailer, she wastes no time letting Harvey know what she wants. Seriously, he's literally in the middle of welcoming her to the law firm when she demands, "I want name partner, and I want it before the year is out." Harvey just looks stunned, which I can't really blame him for because she just totally dropped the mic on him.
Samantha and Harvey will definitely be positioned as rivals throughout Season 8, but Macht says that their conflict arises naturally because they're just too similar. He told Entertainment Tonight:
There are a lot of similarities between her character, Samantha Wheeler, and Harvey. As you'll see in the first couple of episodes, they go head to head. They're truly adversarial, but they sometimes mirror each other in their actions and their manipulative ways to accomplish what they need. There's something charming about that and exciting. We'll see who's the better the poker player, who can kick more people in the knees.
Harvey has always been a guy who cuts corners to get what he needs, so it will definitely be interesting to see how Samantha calls him out on that — or if she enables him to do it even more.
Macht also said that even though she's a newcomer, Heigl has fit right in with the tight-knit cast:
Katie has expressed her fandom for the show and has loved the show for a little while. She's been right in. She gets the rhythm of the speech. She is really, really free with the material — spontaneous. She's just been nailing it.
As much as I'll miss Markle, I'm really excited to see what Heigl will do with this role. Heigl is great at taking on smart, complicated characters, and it seems like Samantha Wheeler fits that description to a T.
Fans won't have to wait long to see Heigl in action: Suits Season 8 will premiere on USA in July 2018.