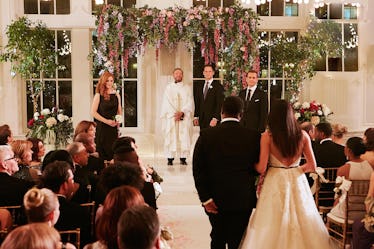 Tweets About The 'Suits' Finale Show How Much Fans Will Miss Meghan Markle
USA
It's time for the little show that could, USA's Suits, to say goodbye in their Season 7 finale, "Goodbye." The show is not going off the air, but after tonight's episode, the show as fans once knew it will effectively be over. It's all because of one major departure: Meghan Markle, who played Rachel Zane, the main love interest on the show to lead actor Patrick J. Adams' Mike Ross. Markle, as the whole world knows, is leaving to go marry Prince Harry. But before she does, she has to marry Mike as Rachel first. These tweets about the Suits finale suggests fans just weren't ready to see the couple go.
It is the couple leaving too, not just Markle, though her exit was the most high profile. (So high profile, it made most people aware of Suits' existence for the first time, despite the show having been on the air for seven seasons.) But for the real fans of the show, who loved this series before Markle left to go get herself a Duchess title, are not just mourning her loss. As Deadline reported months ago, Adams is leaving the show as well.
The original pitch for the show was Adams' Mike Ross as the guy who was the Greatest Lawyer Around Despite Not Having A Law Degree. He winds up being hired to the firm by Harvey Specter (Gabriel Macht) and the firm spends most of the first season basking in Adams' great lawyer moves while trying to hide he is not only someone who never passed the bar but never made it through law school.
Since then, the show has moved away from this buddy-team set up and become more of a traditional ensemble law firm show. There was even a season where Ross spent the entire time behind bars to pay for his fraudulent lawyer work, while Rachel moved center stage and turned out to be a Pretty Damn Good Lawyer in his place.
Now they're both headed for a new life together, and fans just aren't ready.
They've been in mourning since the night before the episode.
And once the episode began, the tears came thick and fast.
For some, realizing the opening credits will have to change to remove the leads' names made it real.
Some were grieving over the loss of both characters equally.
While some fans only grieved losing her...
...and others only grieved losing him.
While the rest grieved they would lose seeing the two of them working together.
Some could not believe the show was going on to Season 8 without them. But this is the way it goes for long-running series sometimes. Actors move onto other roles (or royal roles). Considering how strong the ensemble is, it should be fine to move on from these foundation characters.
Some could not take their minds off the fact that Markle will be getting married in two weeks on a big, larger stage and this was just a "practice wedding."
At least some looked on the bright side. Markle was merely graduating.
And at least one noted pop culture reference.
They're not the only ones leaving, either. Gina Torres, who plays Jessica Pearson, will be planting the seeds of a spinoff created around her character and is not expected to return for Season 8 either.
All in all, this is a hard episode for a lot of fans.
Goodbye Suits! Fans will see you next year with a new cast for Season 8.