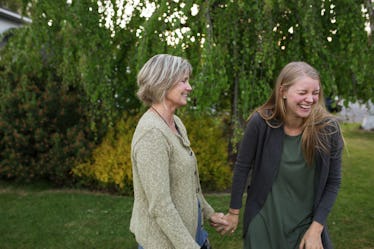 This Is The 1 Thing Experts Recommend When It's Time To Meet Your Partner's Parents
Relationships are full of milestones: your first date, first kiss, and first time meeting the friends and family, just to name a few. There are so many simultaneously exciting and nerve-wracking experiences that you and your partner may have to face if your relationship gets more serious, and you start planning your future together. And while all of those milestones may make you feel a wide range of emotions, in my experience, meeting the parents can be one of the most anxiety-inducing ones — but it doesn't have to be! This is what experts recommend when meeting your partner's parents, so you know what to do when the time comes. And fret not, their advice is super helpful!
It's totally normal to feel a bit nervous about meeting bae's parents for the first time. But when your nerves start to trickle in, remind yourself that you are a star, and bae definitely already knows it, which means their parents probably do, too. If you're still borderline freaking out, here are three pieces of advice from experts about meeting the parents for the first time that can serve as guidance and help you make a good first impression. Don't worry — you've got this!