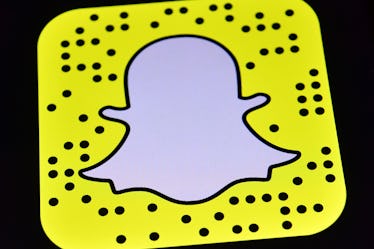 Here's How To Use Snapchat's New Voice-Activated Lenses For Your Funniest Stories Yet
Carl Court/Getty Images News/Getty Images
Snapchat is here with a new way to control the Lenses you love, and you don't have to lift a finger to do so. Snapchat released a new voice-controlled feature on Wednesday, Aug. 1, that allows users to activate new Snapchat Lenses simply by speaking to the app. It's really that easy, and I can't stop talking to pull up the fun new Lenses. If you are as eager as I am to use the new feature, wait no more. Here's how to use Snapchat's voice-controlled Lenses to send your next Snap.
Snapchat's latest voice-controlled Lenses are seriously awesome. The social media app released several new voice commands for users to launch different face filters on Wednesday, Aug. 1. If you're an avid Snapchatter, you know that there are already a few ways to use your face to activate Snapchat Lenses. Typically, you would raise your eyebrows or open your mouth to activate a feature within a Snapchat Lens. You can forgo using your hands and facial gestures. Now, all you have to do is say a specific word to pull up certain filters, according to Snapchat.
When you first access the Lenses, you will be greeted with an on-screen prompt that will explain how to use the voice-activated filters. For now, the Lenses only understand a select number of English words, but perhaps the commands will expand down the road. For example, speaking a simple gesture like "hi" will bring a flock of birds to your Snapchat Lens. Or, if you say the word "love" it will queue up some romantic (and slightly cheesy) jazz music. You can also say things like "yes" to turn on Snapchat's zoom effect. Or, speak the word "no" to send your self into an infinite photo tunnel lens. These are just several of the commands that will send your Snapchat Lenses into action.
Don't expect to see the app's new voice-activated filters all of the time. The voice-controlled filters will appear in the Snapchat Lens Carousel on a periodic basis, according to Snapchat.
Snapchat Lenses first hit the scene in 2015 and have continually been updated with bigger and better features to enhance the user experience. From augmented reality to intuitive camera technology, Snapchat is my go-to app for sending photos and videos to my friends. On Tuesday, July 31, Snapchat celebrated Harry Potter's birthday with a special Quidditch Bitmoji that allowed Snapchatters to have a shot at catching the coveted Golden Snitch. On Monday, July 2, Snapchat teamed up with well-known theme parks like Disney, Universal Studios, and Six Flags for some augmented reality fun with your favorite characters. Basically, what I'm trying to say is that Snapchat is really slaying the game as of late.
If you are in your Snapchat app and do not see the voice-controlled Lenses, it's possible that your app might be out-of-date. If that's the case, head on over to your phone's app store to update Snapchat to the latest version. Once you've done that, navigate back into your app and you should have access to the feature. Snapchat is only available for download on iOS and Android devices.
Snapchat will start rolling out the voice-controlled Lenses to Snapchatters around the globe on Wednesday, Aug. 1. It could still be a little while before the new feature hits your app, though. Sometimes these new functions take time to reach each user, so be patient for now.