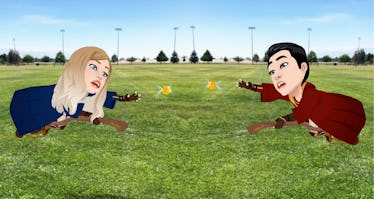 Snapchat Released A Quidditch 3D Bitmoji Lens For Harry Potter's Birthday & It's Magical
Snapchat
Snapchat is all about augmented reality as of late, and they are back with a brand new Bitmoji lens to commemorate the birth of your favorite half-blooded wizard. Forget the cake and candles, because Snapchat's Harry Potter Quidditch Bitmoji lens is here to celebrate Harry's birthday. Whether you consider yourself a straight up Muggle or a product of Gryffindor, the social media app wants you to hop on your broomstick and celebrate right alongside one of the most popular fantasy fiction characters of all time.
On Tuesday, July 31, Snapchatters will be able to wish Harry Potter a big ol' happy birthday thanks to a new Bitmoji lens released to celebrate the beloved wizard's date of birth. This isn't just any Bitmoji, though. It's actually a round of Quidditch. Thanks to developers at Snapchat, you can make your Bitmoji hop up on a broomstick and soar over a large green, grassy field during a Quidditch match. Oh, and you'll even get to pick which house you want to play for. More on that in a minute.
To celebrate Harry Potter's birthday, open up your Snapchat app and activate the Lens carousel. To do this, hold press and hold on the middle of the camera screen. The Harry Potter Bitmoji lens should be the first one to the right of your camera button on your mobile device's screen. Slide the carousel to the right or tap the "HP" icon to launch your Bitmoji into action. You will be flying on a Nimbus 2000. (For all of you Potterheads out there, you will remember that the Nimbus 2000 was Harry's first broom gifted to him by Professor Minerva McGonagall.)
The ball is in your court, so to speak, as you fly around and try to catch the Golden Snitch. It's just like you've stepped back into the inaugural book of J.K. Rowling's Harry Potter series, "Harry Potter and the Sorcerer's Stone." (Hold on tight, and good luck.)
You're probably wondering which Hogwarts School of Witchcraft and Wizardry house you will play for. Will you play for Potter's own Gryffindor? Or perhaps you'll be sorted off to play for Hufflepuff for a patient and fair game of Quidditch. If either of those two houses doesn't strike your fancy, try out a match playing for Ravenclaw, known for their smarts, or the Machiavellian-run Slytherin house. Snapchat is putting you in control of which house you play for.
When your Bitmoji is aboard the broom, tap the personalized avatar to change your outfit to the house of your liking. (An internet quiz once told me I belong in Ravenclaw, so that solves that.) Now that you've decided which house you want to play for (take that, sorting hat), you can take flight and go after that Golden Snitch.
I'm just a mere Muggle, myself, so I can't say that I have any special Quidditch skills. That's OK, though. I don't think Harry Potter is all too concerned with my Quidditch game, so long as he gets a proper birthday celebration.