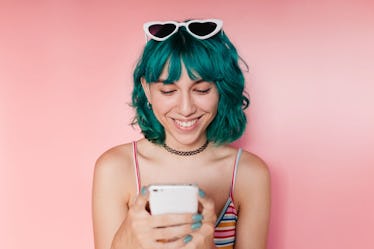 Send This Text To Make Your Partner The Happiest, Based On Their Zodiac Sign
It sucks, but you can't be with your partner all the time. FaceTime and phone calls are a good substitute, but sometimes, texting has to suffice. And while tagging each other in memes and exchanging GIFs can be fun, sometimes you want to have a more in-depth conversation with your partner over text. You want to start a discussion in a way they'll respond positively to, based on their preferred communication style. If you're not sure what your partner's ideal text message is, don't worry. You can figure out exactly how to text your partner based on their zodiac sign.
Each zodiac sign has distinct characteristics, likes, and dislikes. So, if you use astrology to help evaluate what your significant other would most like to see in a text message from you, you'll likely start having better, more substantial talks over text.
Keep reading to discover the best way to text your boyfriend or girlfriend, based solely on their zodiac sign. By taking your partner's planetary personality traits into account when it comes to communication, you can start sending them texts that they'll love — and encourage digital conversations that are (almost) as good as the ones you have offline.