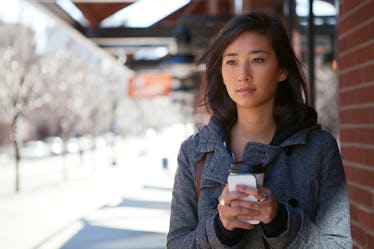 Here's How To Avoid Stressing Out When You Have *A Lot* On Your Plate, According To Experts
Remaining calm when you're really stressed out is one of the hardest things to do. But when you have a million things going on at once, from deadlines to social obligations, adding "how to teach yourself not to stress" seems like one more thing on an already endless to-do list. But you know what, y'all? Learning how to manage stress should be at the top of your priority list, because once you figure that one out, everything else can kind of fall right into place, you know?
Is it easy to teach yourself not to stress? I mean, no. Definitely not. When you're applying for a new job, planning your best friend's surprise party, taking care of a sick pet, and you're dating someone new, even taking a moment to breathe might seem laughable. But habitual stress can take a pretty big toll on your physical and emotional health, as well as your ability to actually navigate the present moment productively. According to the Office on Women's Health, an overwhelming amount of stress can weaken your immune system, it can potentially lead to health issues like migraines, heart problems, stomach issues, and it can even mess with your sex drive.
Of course, if you're at the point where it feels like your stress isn't manageable on your own, it's in your best interest to reach out to a health care professional for help. In the meantime, consider some of these expert-recommended tips for learning how to keep your cool when life gets a little overwhelming.