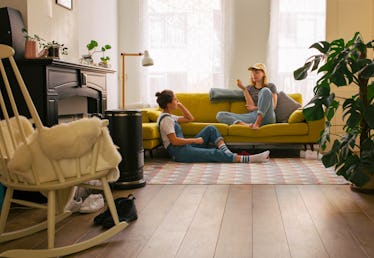 6 Women Reveal How They Set Boundaries With Their Roommates When It Comes To Sex & Dating
For all the joys of group living, like eating other people's Thai leftovers or sharing the expensive big bottle of shampoo with the pump top, there can sometimes be experiences that aren't so pleasant. Sharing space with someone is a complex and intimate thing. And knowing how to set sex and dating boundaries with the people you live with can prove to be pretty tough. If your roommate loves their partner, like literally-can't-stop-making-out-with-them-in-your-kitchen when they're over, it's natural to feel a little uncomfortable in your own space. And though you probably are rooting for your roomie's relationships to flourish, it's OK to want said relationship to flourish outside of your living room — where you're trying to watch Real Housewives of Atlanta in peace.
Setting healthy boundaries is a hard and important part of any relationship. Stating your needs, being clear on your expectations, and standing up for yourself when your feeling overlooked are great ways to get the conversation rolling.
I spoke to six women about the ways they set healthy dating and sex boundaries with their roommates and what they say is pretty sound advice and super insightful.