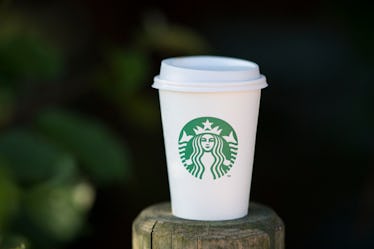 Starbucks Is Offering Free Coffee For Life & Here's How You Can Enter To Win
Matthew Horwood/Getty Images News/Getty Images
If you're a regular at Starbucks, then you definitely will not want to miss out on the coffee chain's returning promotion. Yep, the Starbucks for Life game is back, and you could win some awesome prizes. To get in on the action, here how you can play Starbucks for Life for a chance to get your daily cup of joe for free.
First things first: To qualify for the promotion, you'll need to make sure you're a Starbucks Rewards Member, and then head to the Starbucks app or the Starbucks for Life website. It's super simple to play the game, which you'll be able to do through Jan. 4, 2021 at 11:59 p.m. PT.
Your first play is free as soon as you onboard, so you won't even need to purchase anything to get started. After that, you can get free plays by filling out this entry form. For more chances than that to play, you'll need to make a qualifying purchase with a registered Starbucks Card or through the Starbucks app, which will get you one game play. You can also complete weekly challenges that'll give you entries toward playing. (The challenge running through Dec. 6 will earn you plays when you make a purchase by ordering ahead in the app.) There's a limit of earning up to two game plays per day whether you get a game play through a purchased transaction or through a free entry method. It's also important to note that you'll need to be at least 18 years old as well as a resident of the United States/ Washington, D.C. to play.
There are more than 2.5 million prizes at stake, and there will be five lucky grand prize winners, which will get you daily credit to your account for 30 years for one free food or standard menu beverage item (excluding alcoholic beverages). You'll be able to redeem your free drinks at participating Starbucks in the United States.
Even if you don't win free Starbucks for life, you could be one of the 15 first prize winners who get free Starbucks for a year. You could also win free Starbucks for six months, free Starbucks for three months, or free Starbucks for one month.
When playing the Starbucks for Life game, you'll want to follow the company's coronavirus guidelines and the coronavirus safety recommendations from the Centers for Disease Control and Prevention (CDC) as of Sept. 11. If possible, order your drinks or food in advance and pick up your order. When coming into contact with others, wear a mask, practice social distancing as much as possible and make sure to wash your hands after leaving the store or handling any packaging.
Since the promotion ends on Jan. 4, 2021 at 11:59 p.m. PT, you'll want to start playing Starbucks for Life ASAP. If you get lucky, you may just be sippin' on free coffee for life.
If you think you're showing symptoms of coronavirus, which include fever, shortness of breath, and cough, call your doctor before going to get tested. If you're anxious about the virus's spread in your community, visit the CDC for up-to-date information and resources, or seek out mental health support. You can find all Elite Daily's coverage of coronavirus here.
This article was originally published on