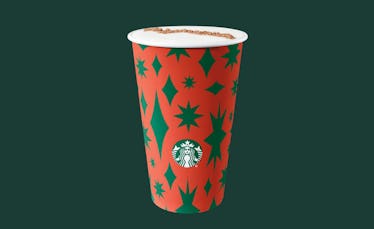 The Starbucks For Life Game Has More Than 2.5 Million Prizes, Including So Much FREE Coffee
Starbucks fans won't want to miss out on the chain's latest promotion, which kicked off on Tuesday, Dec. 1. Yep, the Starbucks for Life game is back, and you could win some seriously amazing prizes. These Starbucks for Life prizes are such a game changer for coffee fans.
Your fave morning spot isn't messin' during this year's special promotion — there are over 2.5million prizes available in total. If you're one of the five grand prize winners, you can look forward to getting your daily cup of joe or morning bite at Starbucks for free. You'll get your grand prize in the form of a daily credit to your account for 30 years for one free food or standard menu beverage item (excluding alcoholic beverages), which you can redeem at participating Starbucks locations in the United States.
Even if you don't win free Starbucks for life, there are 15 first prize winners who get free Starbucks food or drink for a year. And the second prize, third prize, and fourth prize winners will also strike gold — with free Starbucks for six months, free Starbucks for three months, and free Starbucks for one month, respectively.
Besides free beverages and eats, Starbucks is also giving away a pair of Bose QuietComfort Earbuds to 450 fifth prize winners, which have an approximate retail value of $279.99. Other prizes include an Alaska Airlines round-trip ticket, a Starbucks for Life limited-edition puzzle, and 400 Bonus Stars added to your Rewards account. You could even get a Starbucks for Life Coffee Collection, which comes with stocking stuffers like a tumbler, Starbucks Reserve coffee, a canvas tote, and a beanie hat. Basically, if you're enough of a Starbucks stan to play the game, you have a good shot at winning a prize you'll love
If you're ready to test your luck for a chance to win some of these awesome prizes, get started on playing Starbucks for Life via the Starbucks app or the Starbucks for Life website anytime through Jan. 4, 2021 at 11:59 p.m. PT. Your first game play is free, which means you won't need to purchase anything to get started as a contestant. To get another play for free, just fill out an entry form. If you want to get more chances to play, you can get one game play by making a qualifying purchase with a registered Starbucks Card or through the Starbucks app (excluding purchases on alcohol, Starbucks Cards, and Starbucks Card reloads). You'll want to note that there's a limit of earning up to two game plays per day whichever way you play, and you'll need to be at least 18 years old as well as a U.S. resident.
When making purchases at Starbucks to go toward the game, you're going to want to follow the company's coronavirus guidelines and the coronavirus safety recommendations from the Centers for Disease Control and Prevention (CDC) as of Sept. 11. If possible, order your drinks or food in advance and pick up your order. When coming into contact with others, wear a mask, practice social distancing as much as possible and make sure to wash your hands after leaving the store or handling any packaging.
If you think you're showing symptoms of coronavirus, which include fever, shortness of breath, and cough, call your doctor before going to get tested. If you're anxious about the virus's spread in your community, visit the CDC for up-to-date information and resources, or seek out mental health support. You can find all Elite Daily's coverage of coronavirus here.
This article was originally published on