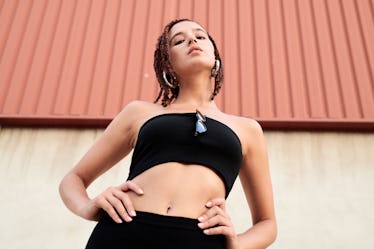 3 Ways To Make Your Sexual Fantasies Come True In 2019, Because You're A Goddess
If you're like me, you probably spend most of your brain power and waking hours trying to figure out how to make your career and personal life goals come true. Because you're amazing and you deserve everything and more, I'd say that's a very worthwhile use of your time and energy! Since having a vibrant sex life can be part of having a healthy life in general, you might wonder how to make your sexual fantasies come true, too. Since fantasy isn't reality because it's, well, fantasy, you might not be able to manifest your go-to sexual daydream down to the details, but you can certainly get close.
When it comes to sexual fantasies, you might have one favorite or have multiple favorites — and both are completely normal. Your desire of choice has a lot to do with your past experiences, personal preferences, and understanding of norms and taboos. And, of course, the kind of fantasy you gravitate towards can also have to do with your zodiac sign! While sexual fantasies might be scenarios you've never actually experienced, there are a few things to consider when making your dreams a reality.
Let's say you don't want to play out a specific fantasy down to the details, so instead try to identify what about that particular fantasy really turns you on. Is it a feeling of power? Freedom? Dominating your partner or them dominating you? Once you've figured that out, you can then recreate that feeling in a sexual scenario. Whatever your fantasy is, and however you choose to approach your partner about it, here are a tips straight from multiple sexperts to help you bring your sexual fantasies to life!