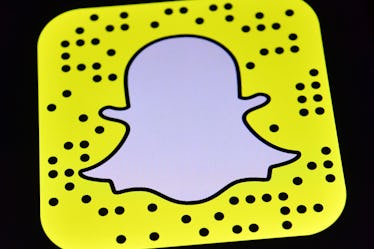 Snapchat's New Tabs Feature Is So Convenient & Here's How You Can Get It
Carl Court/Getty Images News/Getty Images
You may have noticed that Snapchat looks a little different these days. The app, which seems to push out new changes on the reg, is unleashing its tabs feature to user accounts across the globe. The rollout is making its rounds slowly, but it's worth the wait. Snapchat's tabs function makes it easier for you to keep up with the Stories you want to see the most. If it seems like you're the only one of your friends who doesn't have it yet, here's how to get tabs on Snapchat; they will make your life a lot easier — I promise.
Snapchat announced the tabs feature in late February 2018, and I will be the first to say the rollout hasn't quite reached everyone yet (but it's coming). I recently got the tabs update on my app, and my little organized heart could not be happier to have everything all divvied up. The addition of tabs separates your Snapchat into the following categories: Groups, Stories, and Chats. Now, fellow Snapchatters can pick and choose to view the Stories they want to see first or head straight into Chats to catch up with friends.
Gone are the days where everything is in one spot — because now, you can easily sort through your friends to pick and choose what you want to see. Tabs adds a whole new level of convenience and user-friendliness to make my life that much easier. Thanks, Snapchat.
Suffice it to say, Snapchat's been a little busy lately. Let's not forget it hosted an app-wide Easter egg hunt at the end of March where users collected almost 60 million eggs. That is a serious Easter egg hunt. Oh, and Snapchat introduced a @mentions feature in early April, so you can tag your friends in your Stories. Wait, that's not it. There's more. Snapchat also blessed us with the ability to video chat with up to 16 friends at once (!!!) and voice chat with up to 32 of our favorite people.
I know what you're thinking. Those features are all fine and dandy, but just how do you get the tabs feature to speed up your social media browsing? First things first, check to make sure you are using the most recent version of Snapchat by heading to the app store on your iOS or Android mobile device. Snapchat appears to send out updates to the app several times over the course of the month — so if you haven't updated recently, it's highly probable the tabs function will be on your phone as soon as you install the latest version. What are you waiting for? Go and update your phone ASAP.
Here's a little advice from me to you: To avoid missing an update in the future (from any app), check out the settings on your phone and turn on automatic app updates. Voilà! Now you don't have to worry about constantly checking for new features, because they will appear on their own.
OK, so you're back from the App Store. You've installed the most recent update and you still don't see the convenient new tabs function. I know, it can be frustrating, but I am here to tell you that patience is key. Snapchat said iOS users would be the first to see the tabs feature, closely followed by Android users — but everything in due time.
Hey, at least you probably have Snapchat's other fun new features, right? And hopefully soon, you will be able to see what Snapchat tabs are all about. So for now, keep checking your app for updates because you might just have the latest feature the next time you go to update your Story.