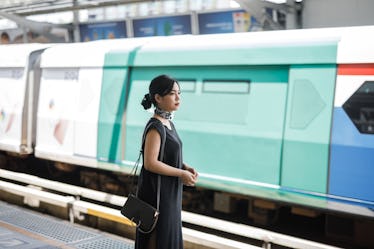 You Can Get Free Rides On New Year's Eve Thanks To These Major Public Transit Systems
New Year's Eve is almost here. If you don't already have plans, it's time to make some. Instead of driving on NYE, one of the safest things you can do is to let somebody else do the work for you. Uber and Lyft are popular rideshare options, but surcharges can be through the roof. So, here's how to get free rides on New Year's Eve 2018 wherever you are celebrating.
Whether you are braving the giant block party to usher in the new year in Times Square or keeping it low-key and heading to your BFF's place, it's probably best to make your transportation plans in advance. At least that's what I'm going to do. Since lots of people are out and about on New Year's Eve, it can become costly to take a taxi or pay for a rideshare service. To save yourself from spending a small fortune on your way to and fro (or both), I am going to suggest that you to explore some of the free transit options that might be available in your area.
Not sure how to get a free ride? I'm here to help. Check out these different options that will help get you where you want to be for New Year's without breaking the bank.