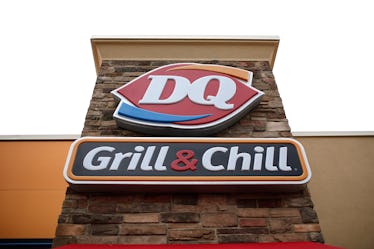 Dairy Queen Is Giving Away Free Ice Cream This Month & Here's How To Get It
Win McNamee/Getty Images News/Getty Images
I don't know about you, but in my book, there's pretty much nothing better than ice cream... except for free ice cream, of course. And out of all the possible flavors, vanilla soft serve ice cream is incredibly hard to beat. To kick off the season (and hopefully warmer days to come), your go-to Blizzard spot is having a giveaway. Here's how to get free ice cream at Dairy Queen on the first day of spring.
Ah, March 20, 2018. It's the first day of spring. In a perfect world, the birds will be chirping, all of us will be able to go outside without experiencing massive amounts of facial pain from the freezing weather, and everyone will, of course, be devouring cone after cone of ice cream. While the latter might be the only thing actually happening this year, it's important that everyone knows to go to Dairy Queen on March 20 for the Fourth Annual Free Cone Day, according to an online press release.
Write it in your planner, put it in your palm pilot, or send yourself a carrier pigeon. There's absolutely nothing keeping me from getting a free cone of soft serve, and you bet your bottom dollar I'll be there waiting in line, regardless if the weather permits ice cream eating that day. (JK! All weather is ice cream weather.)
Just keep in mind that Free Cone Day will only be available at participating non-mall DQ locations, as well as at any participating DQ Grill & Chill restaurants across the U.S., per an online press release. I'd personally check ahead of time, to ensure that your local DQ restaurant is celebrating the glorious holiday... just so you can avoid any potential disappointment. Also, there's a limit of one small vanilla soft serve cone per customer, and it's while supplies lasts. I would personally suggest going as early as possible to avoid major lines, or worse: a shortage.
Despite what you may think, Free Cone Day isn't only benefitting those enjoying the free ice cream. Donations from customers will actually be going to local Children's Miracle Network Hospitals. Last year, donations raised about $300,000 for local hospitals from participating DQ locations, which is literally so sweet.
While dairy enthusiasts and ice cream lovers are anticipating the big day, Maria Hokanson, Dairy Queen's Executive Vice President of Marketing, expressed some major enthusiasm in a statement. She said that DQ vanilla cones are a total classic, and that the big day symbolizes warm spring weather to come.
In her statement, Hokanson said:
Silky smooth DQ soft serve is truly one of life's simple pleasures. Our cone with the curl on top is one of the most recognized treats in the world and that signature curl is a DQ quality test we take tremendous pride in. [...] We're excited for our fourth annual Free Cone Day. This day has become a spring tradition and a sign that warmer weather is upon us.
This isn't the only day that DQ has blessed us with some hella sweet deals. When the solar eclipse occurred in August 2017, our beloved haven of frozen treats was actually selling BOGO Blizzars for 99 cents. The deal actually lasted for a few weeks, so it was a pretty incredible time to be alive. They also came out with the infamous Triple Truffle Blizzard around the same time, consisting of fudge, peanut butter, and caramel truffles — so if you didn't indulge, the time is now.
It looks like I'll be guzzling both vanilla soft serve and copious amounts of Lactaid on the first day of spring — and hey, that's fine by me. I will be the Dairy Queen.