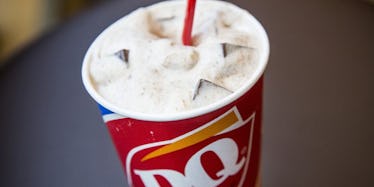 Dairy Queen Is Selling BOGO Blizzards During The Eclipse To Make It Extra Sweet
Andrew Burton/ Staff/ Getty Images
If you've been on the internet at all this past week, then you know that everyone is preparing for the solar eclipse on Monday, Aug. 21. You probably have your glasses and viewing parties all set, but have you thought about what treats you'll have to accompany this natural wonder? Look no further, because Dairy Queen is selling BOGO Blizzards during the eclipse.
That's right, grab your bestie and head over to DQ before the moon shimmies its way between the Earth and the sun, because when you purchase one Blizzard, you can get a second one for just 99 cents. But wait, there's more! (Sorry, I had a dream I was in an infomercial last night.) The deal is good through Sept. 3 at participating DQ locations, Thrillest reports.
Summer just got a whole lot tastier because this deal also happens to line up with the release of DQ's new Triple Truffle Blizzard. The treat lives up to its name because it is filled with three delicious mix-ins: fudge, peanut butter, and caramel truffles. All that goodness stuffed inside and they still turn it upside down for you just to prove that it is, in fact, the most dramatic dessert.
It's the Triple Truffle BLIZZARD with fudge, peanut butter, & caramel truffles. So many truffles! So little time! Get it before it's gone. pic.twitter.com/oUy8ELAxQU — Dairy Queen (@DairyQueen) August 11, 2017
If chocolate isn't your thing, don't worry. You can get your own fave combo because the deal is good on all Blizzards.
The end of summer is always a hectic time as students head back to school and office life gets back to normal (so long casual Fridays), so there is no better time than now to head to Dairy Queen and raise a red spoon (or two) and savor the last few weeks of the season.