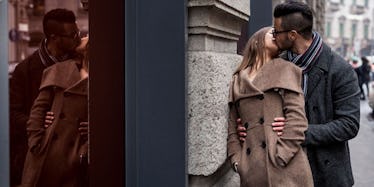 5 Ways To Get The Relationship You Deserve In 2019, Because You're Worth It
Whether you feel ready to jump back into the dating world after a breakup, or you're gearing up for another year of dating, you may be considering how to get a relationship in 2019 as we approach the new year. You see other people in relationships, like the adorable rom-com couple Peter Kavinsky and Lara Jean Song Covey, or friends of yours in real life, and you might want a version of that bond for yourself... so how do you do it?
Finding a relationship comes down to luck and timing. And while those factors are mostly out of your control, there is some work that you can do. You can focus on self-reflection, take action, shift your mindset, and come to terms with a healthy dose of rejection. Most of all, you can build your self-esteem so that you'll know without a doubt that you'll always be OK — no matter what your relationship status is.
If you want to have that special someone in your life, you may have to chase after it, instead of waiting for that person to come to you (unless you're some sort of relationship magnet, in which case, I'm jealous). So read on for expert-approved ways to turn your desire for a satisfying, fulfilling, loving relationship into a reality in the new year.