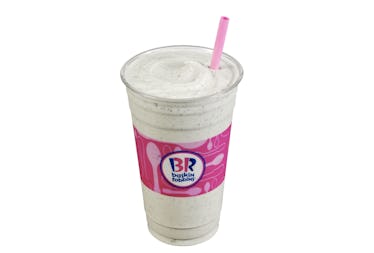 Baskin-Robbins Is Giving Away Free Milkshakes On St. Paddy's Day, So Get Lucky
While there are many ways to celebrate St. Patrick's Day, most of my favorite nods to the holiday involve food. Of course, I love eating the traditional meal of corned beef and cabbage with a side of Irish soda bread, but I'm also all about giving everyday food and drink a little St. Paddy's day spirit. Thanks to the luck of the Irish (probably), one of your favorite ice cream shops is celebrating the holiday with a minty green milkshake and a great deal. Here's how to get a free milkshake from Baskin-Robbins for the sweetest St. Patrick's Day celebration.
Yes, you read that correctly. You can score a free milkshake sample on Saturday, March 17 that combines two of the brand's most popular ice cream flavors: Mint Chocolate Chip and OREO Cookies 'n Cream, per an email from Baskin-Robbins. All you have to do is visit a participating U.S. Baskin-Robbins location on Saturday, March 17 between 3 p.m. and 7 p.m., and you'll score a free 3.5-ounce sample of their Mint Chip 'n OREO Cookies Milkshake. Not only is a it a tasty way to celebrate the holiday, but the Mint Chocolate Chip ice cream gives this sweet sip that perfect St. Paddy's day hue.
It might seem too good to be true, but you can grab your free Mint Chip 'n OREO Cookies Milkshake sample at Baskin-Robbins on March 17 while supplies last. After you satisfy your sweet tooth (for the moment), you can keep the St. Paddy's day celebration going when you pick up a St. Patrick's Day Cake. If you haven't yet treated yourself to a Baskin-Robbins ice cream cake, then this creation complete with green icing, a colorful rainbow, and a pot of gold is reason enough to give it a try. Plus, it's so perfectly decorated for the holiday that it will put you right in the St. Patrick's Day spirit.
It may seem like I'm totally turning St. Patrick's Day into an excuse to over-indulge your sweet tooth, but c'mon, how can you possibly pass on themed treats?!
Speaking of St. Paddy's day sweets, Dunkin' Donuts is also partaking in the celebration with a special donut. Make sure you save room for the Mint Brownie Donut, because this is no ordinary donut. The Mint Brownie Donut is filled with mint chocolate brownie batter-flavored buttercream. I know, that sounds totally delightful all on its own, but that's not even all you get with this festive donut. It's topped with green icing and brownie crumbles to ensure a sweet (and colorful) start to your St. Patrick's Day.
Once you slurp down your shake, you might need something else to accompany your Mint Brownie Donut. Dunkin' has got your back with the new Girl Scout Cookie coffee flavors. To really keep the festive St. Paddy's day theme strong, you can order the Thin Mints coffee from Dunkin' Donuts. Honestly, I don't think you even need to justify the Thin Mints coffee purchase with the fact that you're are celebrating St. Patrick's Day. I mean, it's an opportunity to enjoy a liquid version of Thin Mints, and that sounds like reason enough for me any day of the week. Plus, if you're feeling super parched, you can order it iced for a refreshing and minty sip.
Even better news about all of these tasty St. Patrick's Day treats is that you can find locations that house both Baskin-Robbins and Dunkin' Donuts in the same store, so you don't have to miss out on any festive treats. Just don't forget your free Mint Chip 'n OREO Cookies Milkshake, because not even a four-leaf clover can help you out if you don't grab one on March 17.