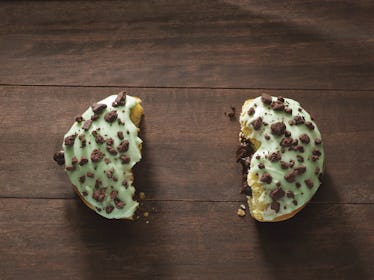 Dunkin' Donuts Released A Mint Brownie Donut For St. Patrick's Day & It Sounds Amazing
Dunkin' Donuts
OK, I'll admit it: I am like, way too excited for St. Patrick's Day festivities. Currently, I'm decked out in all-green attire, I've been eating a steady diet of nothing but Lucky Charms, and I think I might have actually dreamed about green beer last night... oops, my bad. With one of the best holidays just around the corner, getting through this week has been a little rough. So if you're in dire need of a little pick-me-up to get you through to the weekend, Dunkin' Donuts' St. Patrick's Day Mint Brownie Donut is tasty, festive, and it's what all of us leprechauns need in our lives.
Whether you're going all out for the big holiday (like myself), or if you're staying in, eating some corned beef and cabbage, and quietly knocking back a beer for good old St. Patrick, there's no denying that you need to try the Mint Brownie Donut (it's adorable and so damn delicious). If you haven't already given it a shot, make sure to get one while it's still in season.
According to an online press release, the Mint Brownie Donut is filled with mint chocolate brownie batter-flavored buttercreme (OMG), frosted with light green icing, and topped with little brownie crumbles. Good lord. And depending on your DD location, you might be able to have other donut varieties garnished with four leaf clovers or adorable green drizzle. However, the Mint Brownie Donut is super cute, hella delicious, just all-around perfect for this time of year. I am so in love.
If you're feeling extra lucky, DD also tweeted out a social media contest for fans to potentially win free donuts for an entire year (wow that is extremely dangerous for my well-being, but I'm looking forward to it). The contest is super easy, but it's a total game of odds. Just share how you'll be celebrating St. Patty's Day with DD, using the hashtag #DDLuckyDozen and #Sweepstakes. You might actually end up being one of 12 lucky winners. Just make sure to follow them on Twitter or Instagram, post a pic before celebrating, and write the caption accordingly.
The grand prize winner will also win a trip the Dunkin' HQ in Boston, where they will visit the Dunkin' Test Kitchen and create their own donuts with the brand's culinary team. The contest ends on Saturday, March 17 (which is St. Patty's Day), so now is your chance to enter. Also, if you do happen to win, please, please, please send some donuts my way. Especially the Mint Brownie Donuts.
If you also happen to be a die-hard fan of DD coffee (because how could you not be?), definitely make sure to get your hands on any of the three Girl Scout Cookie coffee flavors. Honestly, they're phenomenal. The Coconut Caramel tastes exactly like Samoas, the Peanut Butter truly captures the delight of Do-si-do's, and the Thin Mints is, well, a total classic. So if you're seriously craving a sweet and nostalgic caffeine boost before St. Patty's Day celebrations this weekend, I would absolutely recommend the Girl Scout Cookie coffee. TBH, I could get an IV of all three at the same time, if that were at all possible.
There's a chance that you don't immediately think of going to Dunkin' Donuts around St. Patrick's Day, but trust me: It's like the two were made for each other. Between delectably bright green Mint Brownie Donuts, a chance to win free donuts for a year (which is seriously goals), and Girl Scout Cookie coffee to get the party started, there's really no going wrong. A few coffee breaks can definitely make this week a little more bearable... and way luckier.