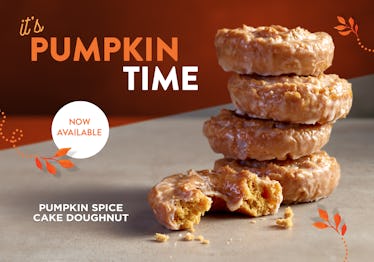 Krispy Kreme Is Giving Away Pumpkin Spice Doughnuts For A Tasty Fall Treat
Krispy Kreme
Run, don't walk to your nearest Krispy Kreme. The confectionery chain restaurant is giving away complimentary Pumpkin Spice Cake Doughnuts to patrons for one day only. You don't want to miss out on this sweet fall freebie. There's just one thing you will need to do in order to score your costless pastry. Here's how to get a free Krispy Kreme Pumpkin Spice Doughnut on Sept. 18 for a fall treat.
Free food is the best food, in my humble opinion. When it involves anything that includes pumpkin spice, I'm all for it. That's why Krispy Kreme's free Pumpkin Spice Cake Doughnut is such a dream of a deal (and not to mention, totally delicious). So, how can you take advantage of this sugary sweet offer? It's pretty simple. You will need to become a Krispy Kreme Rewards Member. Now, don't go brushing this off because you don't want to fill out another online profile. Let me tell you something: Free doughnut. Have I convinced you? OK, good. Let's get you all signed up on the Krispy Kreme website.
There are no strings attached. All you have to do is enter a few personal details including your first and last name, birthday, phone number, email address, and zip code. Click the "Sign Up" button and you're in. You even get a free doughnut of your choice just for joining.
Make sure to download the Krispy Kreme app for iOS and Android devices. This is an easy way to access your account and retrieve your free Pumpkin Spice Cake Doughnut deal. Once you've downloaded the app, log in with your recently-created credentials. On the main page of the app, click on the red button that reads "Rewards & Offers." This will open up all of your freebie deals. Navigate to "Offers" on the upper lefthand corner of your screen. The very top promotion should be the one for a free Krispy Kreme Pumpkin Spice Doughnut. From here, it's a piece of cake.
Take a trip to your closest Krispy Kreme location and show them your free Pumpkin Spice Doughnut offer. There's only one doughnut per rewards member and you can't combine this tasty fall treat deal with any other offers.
Krispy Kreme released their Pumpkin Spice Cake Doughnut on Monday, Sept. 3. It's a seasonal selection that only rolls around once a year. The pillowy cake doughnut is dipped in a pumpkin spice glaze that includes notes of cinnamon. If you could take a figurative bite of fall, this is what I imagine it would taste like. While you're there, you might want to try Krispy Kreme's Pumpkin Spice Latte to warm you up on a crisp and cool fall day.
If you have your heart (and taste buds) set on enjoying a complimentary Pumpkin Spice Cake Doughnut, time is of the essence. The free doughnut deal is only good on Tuesday, Sept. 18 at participating locations and only while supplies last. Don't delay. If you can't make it on Sept. 18, that's OK. Krispy Kreme's Pumpkin Spice Cake Doughnut will be hanging around until mid-November. Remember that free doughnut you got just for signing up as a Krispy Kreme Rewards Member? You can always redeem that for a free Pumpkin Spice Cake Doughnut. When there's a will, there's a way. You're welcome. Enjoy!