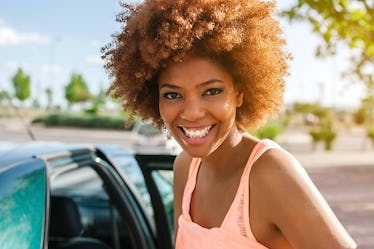 Science Says These 3 Major Things Can Affect How "In Control" You Feel In Your Life
In "this thing called life," as Prince once referred to it, how much control do you really have? Sometimes it can seem like very, very little, even though I'm willing to bet you probably spend a whole lot of time trying to keep it all together. Figuring out how to feel more in control of your life can seem downright elusive and impossible, but according to the results of a new study, there are things you can do to grab the proverbial bull by the horns. And apparently, it all boils down to three main factors — don't worry, I'll get to what those are exactly in a bit.
For the study, researchers from North Carolina State University asked 205 people between 60 and 94 years old about "a wide range of psychological variables" over the span of three weeks, according to a press release from the university. The goal was to see if any of these variables affected how much control the study participants felt they had in their lives. And, as it turns out, three main variables emerged as having the most influence over that in-control feeling: "We found that sleep, mood and stress are all important factors in determining a sense of control and in whether older adults feel they can do the things they want to do," Shevaun Neupert, a professor of psychology at NC State and co-author of the study, which has been published in the Journal of Gerontology: Psychological Sciences, said in a statement for the press release.
Even though these results were specific to an older population, it seems fair to say that everyone, no matter what their age, would consider sleep, mood, and stress to be pretty heavily tied to that feeling of whether or not you're truly "in control" of your life. Like, don't you feel a billion times more put-together when you actually get eight hours of sleep? Or when you make it through an entire day without a negative mood swing? I know I certainly do.
Here's a breakdown on how each of these three things can affect that "in control" feeling, and a few suggestions for how to maintain that feeling more consistently.