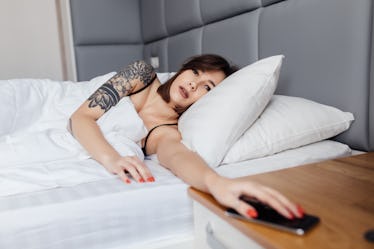 From Venmo To Snap Map, Here's How To Digitally Disconnect From Your Ex
Shutterstock
In the early 2000s, dealing with a breakup meant packing up all of the photos and mementos from your relationship, throwing them in a box, and hiding it all away in your closet. In 2019, however, recovering from heartbreak often looks more like establishing some boundaries from your ex's social media. Whether you turn your phone off or put your old boo on mute, knowing how to digitally disconnect from your ex after a breakup can help you start to heal ASAP.
"After a breakup, I always recommend my clients start with removing all of the emotional triggers around them," Pricilla Martinez, CEO of Regroop Life Coaching, tells Elite Daily. "Nothing is more detrimental to your healing than thinking your ex moved on from you when you're still in the middle of dealing with all of your pain."
According to Martinez, looking at your ex's social media can give you the impression that your ex wasn't affected by your breakup as much as you were. While everyone handles heartbreak differently, no one wants to feel like they're competing for the title of "Who Cares The Least."
If you need to recharge after heartbreak, here are 12 tips to digitally disconnect from your ex.