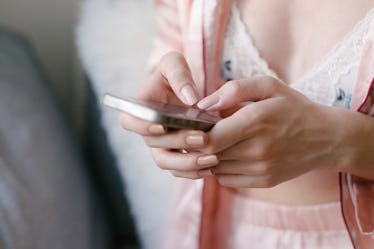 Here's How To Delete Your OkCupid Profile When You Need A Break From Online Dating
There's no denying that online dating sites have made meeting singles way easier than ever before. Anyone who's interested in casual or long-term dating knows that sites like OkCupid are a solid choice when it comes to connecting with potential baes. That said, there may come a time when you need to take a breather. Sometimes, no matter how much fun you're having, taking a break from swiping can provide an opportunity to process and reflect on your romantic experiences thus far. How to delete your OkCupid profile is something you might want to know how to do if you think it could be time to take a pause.
As someone who avoided online dating like the plague (for far too long), once I finally let go of my apprehension, I was legitimately shocked by how lit it was. In the early stages, I found the seemingly endless potential to be overwhelmingly exciting. And after a bad date (or five) it made me giddy to know I could go home and meet someone new the next day. Still, after awhile, I felt like it was time to take a break. Regardless of the exact reason you're thinking about going on an online dating hiatus, the good news is that the process is super easy.