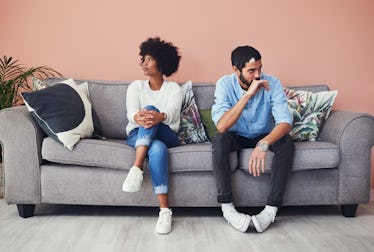 Here's How To Break Up With Someone, Based On Your Enneagram
PeopleImages/E+/Getty Images
Life sure would be a heck of a lot simpler if there was one foolproof way to go about a breakup, right? Unfortunately, relationships are far too complicated and nuanced for any reliable formulas. How you choose to end a relationship will depend not only on your particular situation (like how long you've been together and why you're choosing to walk away) but also your personality. That's why figuring out how to break up with someone based on your Enneagram is actually a super smart strategy — by taking your own core strengths, motivations, desires, and instincts into account, you can go about your split in a way that feels authentic.
When people are put into stressful situations, their true colors tend to come out, because conflict forces your values, your priorities, and your insecurities to come to the surface. Since the Enneagram framework emphasizes each type's core motivations and fears, it's a valuable resource when making any important decisions about your relationships. For instance, Gut Types (One, Eight, and Nine) like to be in control and are prone to externalizing anger. On the other hand, Head Types (Five, Six, and Seven) tend to withdraw when they become overwhelmed or anxious, and Heart Types (Two, Three, and Four) struggle with shame and the need for approval from others. These are all things that are worth knowing before initiating a breakup convo.
Needless to say, there's no right or wrong way to break up. However, if you can lean into your positive attributes while challenging yourself to overcome unhealthy habits, then you're more likely to feel good about how you ended things. Here's how your Enneagram type can bow out of a relationship in the most graceful way possible.