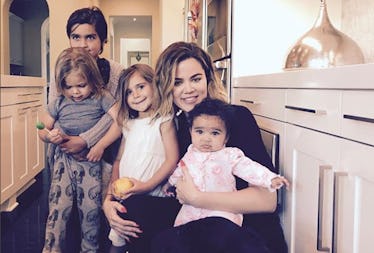 7 Times The Kardashian Sisters Taught Us How To Be The Cool Aunt
There are a lot of Kardashian/Jenner kids. Like, a lot. Officially, their offspring outnumber them. Over the years, we've watched Kylie Jenner, Kendall Jenner, Khloé Kardashian, Kourtney Kardashian, Kim Kardashian, and Rob Kardashian become aunts and uncle to beautiful wee-ones, and have seen what it really takes to be the favorite relative. It's a true art, and we all can learn how to be the cool aunt, according to the Kardashians.
Let's do a quick family roll call, shall we? There are four Kardashians and two Jenners. Rob, Khloé, Kim, and Kourtney are all children to Kris Jenner and her late ex-husband, Robert Kardashian. Years later, Kylie and Kendall Jenner showed up, thanks to Kris' second marriage to Caitlyn Jenner. In less than a decade, eight nieces and nephews popped up between the six siblings, with a ninth on its way. In order of appearance, we have:
Mason (8), Penelope (5), North (4), Reign (3), Saint (2), Dream (1), Chicago (1 month), Stormi (12 days), and Khloé's baby on the way (negative 3 months, give or take).
The only sibling yet to become a parent is Kendall. With all of these babies running around, the Kardashian sisters quickly learned how to be the coolest aunts in Calabasas (and probably the world). If you want to be as awesome as they are, follow these close instructions when it comes to your nieces and nephews.
1. They take them on incredible trips.
Ya know, like to Disney World, or Paris, or wherever you can. The Kardashians are famous for their world travels and toting their young ones on private jets all over the world.
2. Throw epic themed parties.
This is a Kardashian specialty. Penelope and North's joint mermaid-themed birthday party was the event seen around the world. Throw on a fake fishtail and voilà, you're the world's greatest aunt.
3. Organize creative activities together.
Take Kourtney's new gingerbread party, for example. Viewers watched as the eldest sister started a new tradition for her family in the Keeping Up With The Kardashians holiday episode and created a children's winter wonderland on her kitchen table. (This is also a great party idea for, say, me.)
4. Let them get a little messy.
Aunt KoKo is the best at this. Her joyful spirit and ability to not take herself so seriously make her a perfect playmate for her little nieces and nephews. Sure, it might require a lot of clean up, but the memories are worth it.
5. Teach them new things.
If there's something you enjoy, share it with them! Here, Kylie Jenner took some time to teach North all about her makeup expertise. Even if you're not a guru at something unique, you could be the relative to teach them how to tie their shoes, blow bubbles, and more.
6. Get into slumber parties.
This is Cool Aunt 101. If you can't hang at a slumber party, you can't hang, period. Fortunately for the Kardashians, their giant California King-sized beds and multiple guest rooms make slumber parties super easy. Don't have your own mansion? Make an old-fashioned fort out of your living room couch. It's all the same to them.
7. Show unconditional love.
If you can't pull off any of the above, you can at least do this. Even if you don't have access to money, trips, activities, or Kanye West, you can show your nieces and nephews tons and tons of love.
Thanks for the demo, guys! We love keeping up with you and your babes.
Check out the entire Gen Why series and other videos on Facebook and the Bustle app across Apple TV, Roku, and Amazon Fire TV.