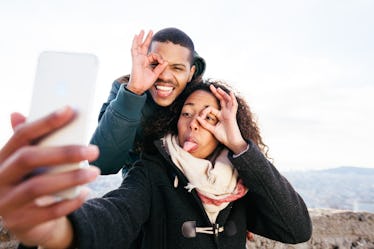 Here's How Long To Date Before Making It Instagram Official, According To 7 Women
Social media comes with a set of unwritten rules that I can only assume kids will one day literally learn in school. Navigating all your feeds, creating your brand, and negotiating when you need to give photocreds — there's a lot to learn. Of course, the rules of social media can seem even more daunting when dating comes into the mix. From knowing how long into talking to a new cutie you can follow them, to how long to date before making it Instagram official, navigating social media with a new boo can feel a little tricky.
Like most things in dating, the best solution to Instagram stress may be to start a discussion about it. Remember: It's important to get someone's consent before posting about them on the web. Ultimately, if your date is cool with you posting their pic, then it's entirely your call! What's right for your and your boo may look different than what's right for other couples. As any celeb posting #ads for gummies that make your hair grow can tell you — there's no one way to use Instagram.
I spoke with seven women about how long they dated before making their relationship #insta official.