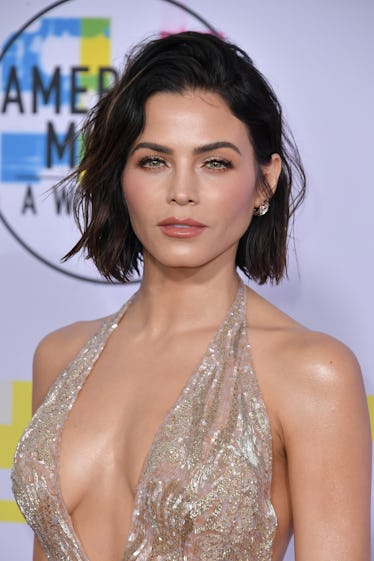 Here's How Jenna Dewan Is Doing After Announcing Her Split From Channing Tatum
Neilson Barnard/Getty Images Entertainment/Getty Images
Jenna Dewan and Channing Tatum broke hearts all over the internet when they announced on April 2 that they were ending their marriage after nine years of being together. The parents of 4-year-old Everly said in a joint statement posted to their respective Instagram and Twitter accounts saying there was so "salacious" reason behind the split, and sources close to the couple have said they simply fell out of love. (Well, that's not simple, but you know what I mean.) You might be wondering how Jenna Dewan is doing after announcing her split from Channing Tatum. According to E! News, she's been spending a lot of time with family and took a weekend getaway this past weekend to relax.
Sources told E! News that Dewan spent this past weekend in Santa Barbara, California, a location not far from her home in L.A. (that Tatum reportedly moved out of before the split was announced). "She was surrounded by family and had a quiet weekend there," the source said. "It's close enough that she can get out of L.A. easily and spend time with people she is close to."
The statement in part read,
We have lovingly chosen to separate as a couple. We fell deeply in love so many years ago and have had a magical journey together. Absolutely nothing has changed about how much we love one another, but love is a beautiful adventure that is taking us on different paths for now. There are no secrets nor salacious events at the root of our decision — just two best-friends realizing it's time to take some space and help each other live the most joyous, fulfilled lives as possible. We are still a family and will always be loving dedicated parents to Everly. We won't be commenting beyond this, and we thank you all in advance for respecting our family's privacy.
DailyMail.com reported that Tatum reportedly had a drinking problem that lead to their split, but Dewan came out in support of her ex and shot down the rumors saying there was no truth to them. Elite Daily reached out to Dewan and Tatum's team for comment at the time, but did not hear back by the time of publication. A rep for Dewan told DailyMail.com, "Happy to clarify that absolutely none of these rumors are true. The reason our statement was so positive [was] because that's the reality of the situation."
Channing Tatum's team later gave a statement to E! News agreeing with Dewan's statement. It said, "The media is fabricating stories and none of these accusations are remotely true. Channing and Jenna released an honest and loving statement which is the only truth."
The first part of Dewan and Tatum's split announcement explained that they were telling the news themselves because they wanted to be transparent with their fans. The statement in part said,
We're living in an incredible moment in time, but it's also a time where truth can get easily distorted into 'alternative facts.' So we want to share the truth so you know that if you didn't read it here then it's most certainly fiction.
Their statements following their initial announcement have made it clear that they're not here for any false rumors being spread about their split.
A source did tell Entertainment Tonight that while the decision to split was difficult, they "are both relieved" the world finally knows. "[It has] been very difficult," the source said, adding that "they were very much in love" for the majority of their marriage, but things just became too overwhelming when they were trying to work through their struggles. The source added that Tatum and Dewan did everything they could think of to avoid splitting up "because they both felt it was worth it," but things just became too overwhelming.
They said,
There was a lot of pressure in Hollywood to stay a happy couple. Some friends were stunned by the joint post regarding their split, while others saw this coming. It has been very challenging for a while and many of their fans are devastated. But this decision is truly is for the best.
The source continued,
Hiding the fact [that] their marriage has been over for some time was devastating to Jenna and also hard for Channing. At this point they both feel the future will be better. And while their marriage couldn't last, their daughter is their first priority.
It's good Dewan is giving herself space and time to get in some rest and relaxation. These kind of announcements are never easy, and it's clear there was a lot of build up leading up to it, so it makes sense she would take time away with her family. Treat yo' self right now, girl.