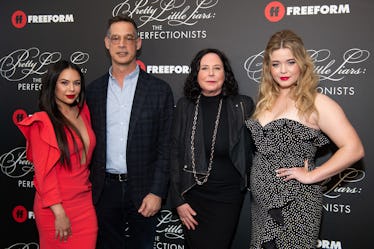 Here's Everyone The Cast Of 'The Perfectionists' Is Dating IRL, So You Can Get Your Fix
Emma McIntyre/Getty Images Entertainment/Getty Images
Drama, mystery, talented actors? Is there anything The Perfectionists doesn't have? True to its name, the characters are perfect (as perfect as the characters in its sequel were pretty and lying). As with any good show, I immediately became obsessed with the personal lives of the cast members, so I researched everyone the cast of The Perfectionists is dating. It turns out that what happens in Beacon Heights doesn't stay in Beacon Heights (which is to say, the actors don't actually live there when not filming the show — something that truly shocks me every time I learn it about a TV show, especially those set in fictional towns).
I was delighted to learn about the rich love lives of the actors on The Perfectionists. After all, they deal in such doom and gloom on the show, I'm glad they get to kick back and have fun. I only wonder if they've ever pulled a Taylor and faked a death to get out of a relationship (at least, that's my theory on what happened to Taylor — no spoilers!). But once the dust settles and everyone knows who killed who and who's really dead and who's lying and who works for the FBI, there's still the most important question of all — who are they all dating?
Read on to find everyone the cast of The Perfectionists is dating IRL.