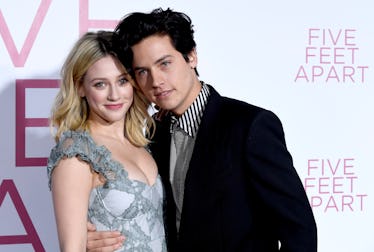 Here's Everyone The Cast Of 'Riverdale' Is Dating IRL, Because I Can't Get Enough
Frazer Harrison/Getty Images Entertainment/Getty Images
If Riverdale has been your absolute obsession over the past few years, you're not at all alone. What's sexier than mystery and small towns? Well, just about the entire cast of Riverdale, and you're not the only one who thinks so. If you've been wondering who their lucky partners are, I've got the scoop on everyone the cast of Riverdale is dating. The Season 3 finale hits tonight, and while I'll miss the show over the summer, I'll be sure to stay tuned to all the developments in the cast's love lives — so you can be, too.
Yes, I am bouncing out of my chair wondering what's going to happen in the finale, but I'm equally desperate to know if Cole Sprouse and Lili Reinhart are going to post any more dog videos. I feel particularly attached to their love lives because I often watch Riverdale and then go on Tinder during commercial breaks (it's just one of my "rituals"). So, in a way, I'm dating the entire cast, but in another way, I'm really not, because they've never met me. Either way, I love the show, and there's no wonder such a talented group of people has kept us all delighted both on and off screen for the last three years.
Read on to find out who everyone in the cast of Riverdale is dating.