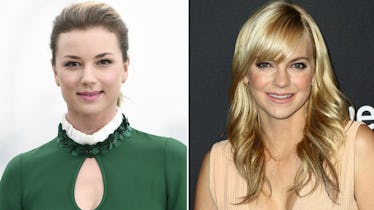 Here's A Brief History Of Everyone Chris Pratt Has Ever Dated
Gareth Cattermole/Frederick M. Brown/Getty Images Entertainment/Getty Images
Show me someone who doesn't get thirsty when Googling pictures of Chris Pratt, and I'll show you a liar. Whether he was making you laugh in Parks and Recreation, impressing you with his muscles in Guardians of the Galaxy, or having you actually consider moving to another planet in Passengers, the man can do no wrong in my eyes. And don't even get me STARTED on his Velociraptor-wranglin' self in Jurassic Park. Just don't, OK? Add his incredibly good looks to his obvious talent, and you have a pretty good recipe for someone you'd be willing to date (and, let's be honest, marry). But believe it or not, the list of all of Chris Pratt's relationships is actually pretty small, considering he could have a list that's hundreds of pages long if he wanted to. Nope, our Chris Pratt is a good boy, and I appreciate the hell out of that.
So if you're looking to peruse into Chris Pratt's dating history, the list is pretty minimal — but your girl still has the hookup, and I'm more than happy to spill all of the tea.
Allow me to transport you back to a time where Chris Pratt was just beginning his acting career. Picture it: it's 2004. The world was just learning about a thing called Facebook, Mean Girls just hit theaters, and Britney Spears was literally everything.
Are you there yet?
Good. Then let's begin.
1. Emily VanCamp: 2004-2006
Show of hands: who here used to love the WB TV show Everwood? Well, if you remember correctly, both Pratt and VanCamp were characters on the show, which is how the couple met and started dating. More specifically, their characters were brother and sister... which is just slightly weird.
Back in 2006, in an interview with TV Guide, Chris Pratt acknowledged that it was an unusual situation to date the person who played your sibling. He said,
Yeah, we've pretty much gotten used to the response of, "Eww, that's weird. That's creepy." The people who know us are happy, and probably expected it to happen eventually. But yeah, every once in a while we get that one person that's like, "That's really creepy. You just kissed your sister."
I mean, they're not wrong (???). He continued, admitting that they found it weird "for [first] six months, but it had more to do with just trying to hide our relationship from the set," but then called it "foolish" because clearly, everything on the show was "fiction." Whatever helps you sleep at night, buddy.
But it the relationship wasn't meant to last for these faux-siblings, and by the end of 2006, the couple had called it quits.
2. Anna Faris: 2007-2017
I know, you guys. This one will gut you.
Faris and Pratt first met back in 2007, after starring together in the comedy Take Me Home Tonight. Their relationship soon turned serious and, in 2008, the couple got engaged.
During the time of their engagement, Chris Pratt told People,
I knew I wanted to marry her pretty soon [after I met her] ... It took a while for me to admit it, because it would be crazy to be like, 'I want to marry you' the first day I met her. But I could have!
This would be so damn perfect if we didn't already know how this love story would end.
The couple married in 2009, and in 2012, welcomed son Jack into the world.
Here they are in 2017, back when life was amazing and love was real:
Then, on Aug. 7, 2017, the couple announced their separation in a statement that they both shared on their social media accounts. In part, the statement read:
We are sad to announce we are legally separating. We tried hard for a long time, and we're really disappointed ... We still have love for each other, will always cherish our time together and continue to have the deepest respect for one another.
Though the news was difficult to digest, it seems like the ex-partners have stayed amicable and still play an integral part in each other's lives. In an interview with People in October 2017, Faris said that they "truly adore each other" and that they'll "always have each other and be incredible friends.
3. Katherine Schwarzenegger: June 2018-Present
While this new reported relationship hasn't been confirmed by either party, Pratt and Schwarzenegger were first spotted together in June having a picnic together, clearly causing speculation that the pair were an item.
According to People, the two were seen "smiling and laughing" together, but flash forward just a few short weeks, when Pratt was spotted kissing Schwarzenegger in front of his son, Jack on Sunday, July 29, after attending church together.
Things seemed to be moving quickly for the reported couple, and according to Entertainment Tonight, a source said that things are getting pretty "serious":
[They] went from casually dating to spending much more time together. Chris and Katherine have introduced one another to their family and friends, and have been almost inseparable when they are free.
Elite Daily has reached out to both Pratt and Schwarzenegger's teams for comment but did not hear back by the time of publication.
So, there you have it folks. Though the list may be a short one, it's filled with some really lovely, wonderful women. And even though he may reportedly be taken at the moment, there may be some time to get your name on that list.
Chop, chop!