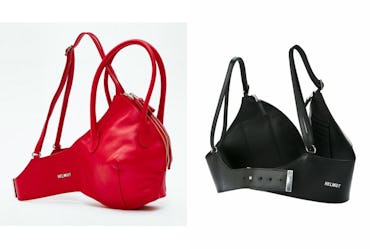 This Bag Is A Functional Bra & Purse In One, So Never Stick Money In Your Underwire Again
You know sometimes when you don't want to carry a purse, so you stuff some money in your bra? Now those two things are one in the same. The Helmut Lang bra purse is available to purchase, but it'll cost you more cash than you can manage to stuff in it.
Helmut Lang as a fashion brand has been around since 1986, although the actual person Helmut Lang left the company in 2005. Since then, the brand has struggled to find it's voice but found a savior in Shayne Oliver, who previously designed for Hood By Air. To give you some perspective on Oliver, his last fashion show for Hood By Air was centered around a collaboration with PornHub. Models walked down the runway with hair slicked back by a substance that was reminiscent of the infamous hair gel scene in There's Something About Mary. Oliver pushes boundaries, to say the least.
Helmut Lang is not as PornHub-friendly as Hood By Air obviously was, but Oliver still managed to inject a small amount of shock factor into his designs for the label. Oliver's bra-shaped purses were first shown to the world in September 2017 during New York Fashion Week, but it wasn't immediately obvious whether they were intended for the masses. Many designers make clothing just for the runway, not to actually sell. Gigi Hadid's bouquet of flowers dress was only for show, don't expect to see anyone on the street wearing that. The Helmut Lang bra bag, however, is becoming a reality.
The Bra Bag: A Progression
After a nearly four year hiatus from fashion week, Helmut Lang came back with a bra, I mean, bang. But it took some time during the show for the questionable accessory to really shine through. One model wore what appeared to be a leather bra on top of a leather shirt. It's not how I'd dress myself in the morning, but I've seen crazier things.
Another model wore it as a top, no shirts involved. Again, not my style but I live in New York City and as far as crazy outfits go, this is the tip of the iceberg.
A male model then wore the leather item under an overcoat, slightly more unusual but still nothing to write home about.
Here's where it got a little weird: One model wore the bra over her jacket. I don't understand how a bra can give much support when it's not even touching your skin.
OK, here are all the answers. See how this model is wearing the accessory, now do you also see what she's carrying? It's not a bra, it's a purse.
My thoughts exactly.
A view of the bra-bag from the bag shows how you could strap it on like a bra, or carry it like a bag. Either way, the straps and band are adjustable, just like a regular bra.
Helmut Lang Bra Purse in Red
($635; helmutlang.com)
The purse comes in black, white, and red. It'll set you back a cool $635, which is less than this year's $2 million Victoria's Secret fantasy bra, but still more than I'd like to spend on a bra or a purse.
Twitter, unsurprisingly, had some humorous reactions to this bra, both when it first came out on the runway, and now that it's actually being made and sold.
Many users questioned the creative decision.
The item may need some real world tailoring if worn as a bra.
Others were more open to the idea of this new style.
Santa, did you hear that?
The truly adventurous were immediately on board for the bra-purse combo.
Well, now you can. Or you can carry it.