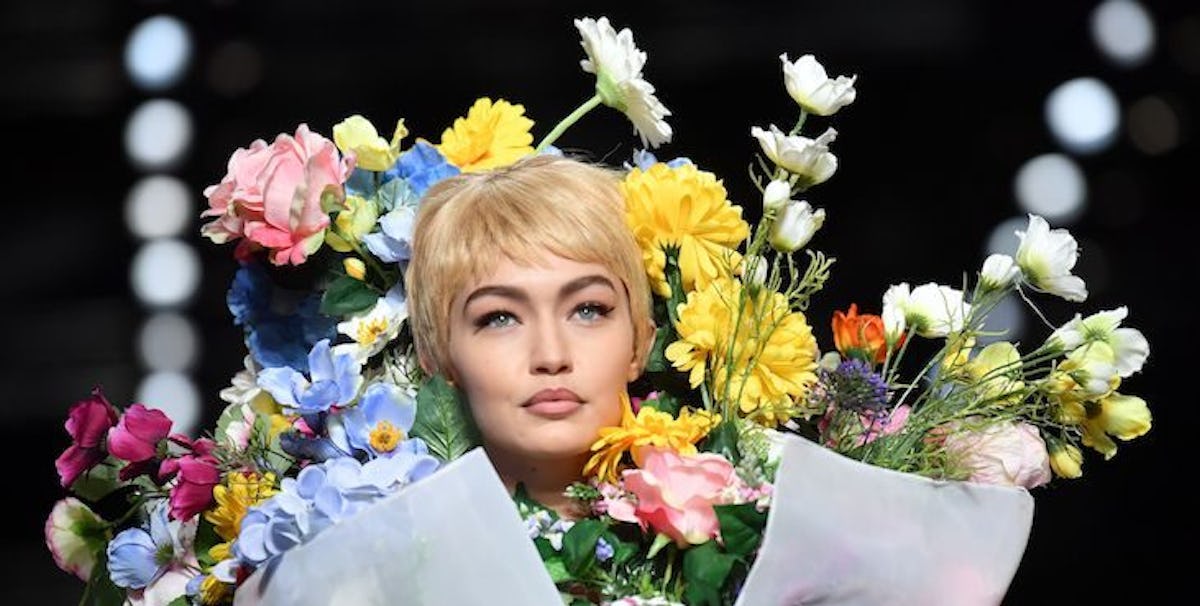 Gigi Hadid Wore Nothing But Flowers On The Runway And The Pics Are Legendary
Getty/MARCO BERTORELLO
From Marc Jacobs to Moschino, flowers are all over the Spring 2018 runways. I know you're sitting there thinking, "Florals? For spring? Groundbreaking," like the smart little The Devil Wears Prada aficionado you are, and you're right. But when I saw Gigi Hadid's Moschino flower look, I had to do a double take. Florals seem to be a trend in some iteration every season, and the fashion industry pushes them like they're some groundbreaking new design choice. Like, we're all wise to your ways, fashion industry. You don't have to be Miranda Priestly, Meryl Streep, or anyone who even pays attention to high fashion to spot that malarkey from a mile away. Game over.
Everyone's favorite Insta-model walked the runway decked out in flowers, and flowers alone — like a giant walking bouquet wrapped in a red bow. My immediate thoughts were: I see daisies, roses, calla lilies...is that a crysthanamum? Is she going to go soak in a giant vase on boyfriend Zayn Malik's desk? Followed by more civic concerns such as, I really hope she's not allergic to pollen and there are no bugs nearby.
But for all my surprise, Hadid actually appeared to revel in the fact that she's basically the biggest boutonniere you've ever seen.
Here Hadid is looking fresh to death:
"Zayn loves me... Zayn loves me not..."
This lady's reaction to Gigi-in-bloom is so priceless. She is clearly delighted.
After the show wrapped, Hadid didn't even immediately rip herself open like I do whenever I get a flower delivery. She posed for more pictures still all wrapped up in plastic with Moschino's kitschy and inventive designer, Jeremy Scott, who himself is wearing one of Moschino's $350 My Little Pony tees.
What a saint. From the side view, you can see how immobilizing the garden get-up really is, as her neck looks strained.
It could've gone terribly wrong.
As it turns out, Scott's inspiration for dressing Gigi in that whimsical, impractical get-up is pretty heartwarming. He sees his designs as political statements, and wanted to be a bright spot amidst the current state of contention and division.  "You know in the Depression era, when people went to see a double feature for a nickel and they would be transported from the fact they had no food, no job?" he told Vogue backstage. "I have to stay super positive, because I have to give that positivity to people." And what better way to cheer us up than to turn supermodels into living, breathing Green Goddess salad dressing? Benevolent AF.
As for how Gigi's baby sis and fellow model Bella faired at Moschino, if you ask me, she got off easy. Bella walked in a super short black cropped wig, and a dress that's half-matador, half-Katniss Everdeen fire gown. It's quite a different vibe from Gigi's look, but still in the cheerful fantasy realm.
While Scott's spring 2018 show was certainly uplifting, his fall 2017 show may have been a message about recycling. Scott sent models like Kendall Jenner down the runway wearing trash. I don't mean that to be offensive; the outfits were composed of garbage like milk cartons, plastic bags, and wire dry cleaning hangers. The spectacle really resonated with folks who believe they too dress like trash.
Whether they're wearing literal trash or sweet-smelling plants, you have to admit it's impressive models like Hadid still manage to march down the catwalk with confidence. We should all take a page from Hadid's book, if not literally by draping ourselves in dahlias, figuratively by carrying ourselves assertively regardless of how fresh our outfit might be.
Let the finale from Moschino's spring 2018 show, a panoply of many wonders natural and unnatural, inspire you: A model named Anna Cleveland pranced down the runway dressed like a tulip, picking the petals off her own body and throwing them into the audience. Now that's some pluck.