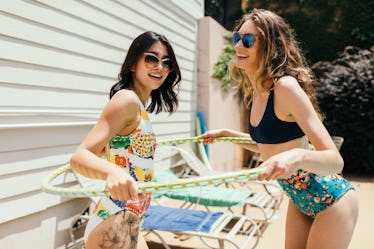 Why A Low-Maintenance Friendship Is Exactly What You Need In Your 20s
I don't know about you, but I think that being in your 20s can be a real whirlwind. You're learning how to live on your own, going on interviews that may launch your career, and figuring out what kind of impression you want to make on the world. You're juggling rent checks, friendships, and relationships, all while answering life's most pressing questions like, "What do you want to be when you grow up," or "Should you order two pizzas for dinner?" (Spoiler alert: The answer is always yes.) It can be so rewarding, but also exhausting, which is why it's #necessary to evaluate how you're using your time and energy. To your surprise, you may find that having a low-maintenance friendship in your 20s is exactly what you need.
I couldn't agree more. Yes, it's important to be there for the people you care about, love, and make memories with on the reg. The best friends you surround yourself with deserve to receive the same kind of support and appreciation that they give to you. But, I would argue that having a friendship in your life that doesn't require you to constantly make plans, text back, or apologize when things get busy is essential, too.
That's the kind of bond, in my experience, that's meant to last forever. It's equally fun-filled, loving, and jam-packed with deep conversations. Even if it's not-so easy to find, it's something that you need in your 20s, and here's why.