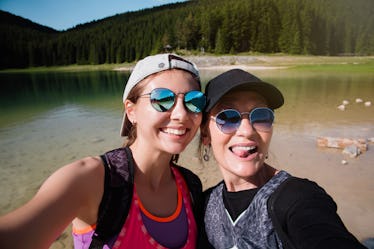 Having A Cool Mom Who All Your Friends Love Is So Much More Than A Title
Your mom's "not like a regular mom"; she's a cool mom. It's not just a Mean Girls quote to you, because it's your life. Your friends love and adore your mom, and she's kind of like a second mom to them. Though, you're the lucky one who actually gets to call her "mom." You wouldn't trade your special bond with her for the world, because she's so much more than a parent to you. She's your best friend, role model, and a true confidante, but having a cool mom who all your friends love is so much more than a title.
She didn't just get labeled "cool" for absolutely no reason; she earned that title from the awesome things she did when you were growing up, and continues to do. Growing up, your mom was chill about having your friends over for movies and games on Friday nights, and made sure to have all the best snacks lined up for everyone to enjoy. She even took the time to catch up with your friends and ask how they were doing, which showed how much she genuinely cared.
She's an incredible parent, but also a great friend. It's definitely not an easy role to take on, but she somehow does it all with style. I could go on and on about how awesome my mom is, but you know it, because your mom also has these 11 unique qualities that makes her the coolest.