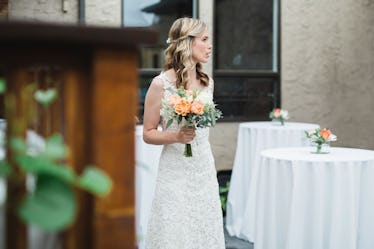 Yikes, 9 People Reveal What They Hated Most About Their Wedding
Before I got married, I would tell people about headaches I'd encountered in the wedding planning process, and they'd all respond the same way: "Your wedding day is the happiest day of your life, and on the day itself, you'll forget about all of the drama leading up to it." No one seemed to think there would be any drama once the planning was finished — the day you say 'I do' is supposed to be magical no matter what, right? Even if you've never tied the knot, you probably know that's not true, and apparently, hating part of your wedding is something plenty of people have experienced.
TBH, my day was pretty magical. Sure, my caterer showed up two hours late because he hit a deer with his truck, and my sister smeared lipstick on my chin during our "getting ready" photoshoot, and our photographer tripped while taking bridal party photos and trampled the bouquets, but it was still a pretty perfect day. Of course, my drama seems like nothing compared to the Reddit users that contributed to the Ask Reddit thread about worst wedding snafus. If there is any part of your wedding day that you're unhappy with, you might feel better after reading these disastrous wedding stories.