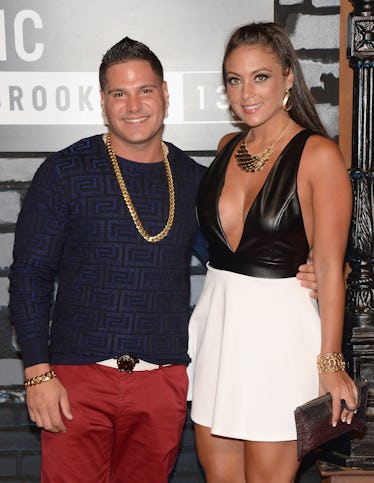 Snooki Just Revealed If Sammi's Spoken To Ronnie Since Having A Baby – EXCLUSIVE
Jamie McCarthy/Getty Images Entertainment/Getty Images
Babies have a way of bringing people together. Or BACK together. Like, even the most estranged friends and family members can somehow magically reunite over the sudden appearance of a sweet and innocent newborn. So I gotta wonder: Now that Ronnie Magro has become a dad to four-month-old daughter Ariana Sky — whom he had back in April with girlfriend Jen Harley — has he heard from his former Jersey Shore flame Sammi "Sweetheart" Giancola? I know it's probably a long shot, but I really need to know: has Sammi talked to Ronnie since having a baby? Or at least, like, sent him a Diaper Genie or something? I would really love it if these two were back on good terms, but sadly, it doesn't look like Giancola will be bumping her ex's daughter's tiny fist any time soon.
How do I know this little bit of inside info? Because Elite Daily asked the Jersey Shore cast (minus Magro) in an exclusive interview if Sammi has reached out to the proud new papa, and this is how they reacted:
Snooki: Hell no.
Vinny: That's a big no.
Deena: I spoke to Sammi a couple days ago.
Vinny: Ooooh, spill the tea.
Deena: She will never speak to him again.
JWoww: Hell no.
Deena: She said [cutting him off] was the best thing she ever did.
Everyone: Woooooooah.
So there you have it, fam.
I have to admit, I am seriously bummed out by this revelation. I weirdly loved these two together and have been silently been hoping for their reunion ever since news first broke that Jersey Shore Family Vacation was going to be a thing. Sure, Sammi and Ronnie officially broke up back in 2014, but I was really hoping the show would bring them back together. You know, until Giancola posted a statement on her Instagram explaining that she would definitely not appear in the spinoff.
"I have chosen not to join the show this season because I am at a completely different place in my life right now focusing on my businesses and relationship," she wrote. "I am not the same person as I was when I was 22. At 31, I am currently extremely happy in every aspect of my life and want to avoid potentially toxic situations."
So yeah, that happened.
But while Giancola didn't appear on the show in person, the cast pretty much talked about her all the time. Plus, there was that awesome life-size "Sammi" doll Pauly D dragged out in the premiere episode.
And let's not forget that later in the season, a drunk Magro copped to still being in love with Giancola after Snooki asked him if a then-pregnant Harley was "The One." His response? "I mean, probably not, right?" So lame, dude! Then Snooki asked why he couldn't marry Jen, adding: "because you f*cking love Sammi." And instead of shutting this theory down, Magro goes and admits that he misses his relationship with Giancola and says he never found that same kind of security with anyone else.
What a mess. Sorry, Ron — you're prob gonna have to cop that Diaper Genie for yourself.