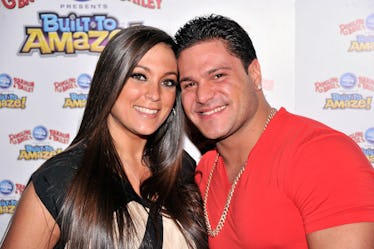 This Tiny Detail About Sammi & Ronnie Says A Lot About Their Current Relationship
Stephen Lovekin/Getty Images Entertainment/Getty Images
In true Jersey Shore fashion, the arrival of a new baby didn't symbolize a transition into boring dad life for Ronnie Ortiz-Magro. You may have heard of the controversial Instagram Live video allegedly capturing a physical altercation between Ronnie and girlfriend Jen Harley, but it's probably best if the details of this argument stay off-camera and away from fans' interference. Ronnie's ex-girlfriend Sammi "Sweetheart" Giancola has stayed away from the Jersey Shore drama since the original show wrapped, but with these new crazy updates in Ronnie's life, I have to wonder: Does Sammi follow Ronnie on Instagram?
As of Monday, April 30, Ronnie doesn't appear on the list of 192 people Sammi follows on the social media platform. Unless you've been keeping careful tabs on Sammi's Instagram activity, there's no way to tell how long she hasn't followed Ronnie or if she ever followed him in the first place. If you scroll through the depths of Sammi's account to when she first joined the app in 2012, there are some glimpses of Ronnie in group shots of the Jersey Shore cast. 2012 is so prehistoric in the world of Instagram that the group pics don't even have the other cast members in it tagged. If Ronnie also had his account back then, Sammi totally pulled the move that any girl would and unfollowed her ex's account once things were over between them.
Sammi and Ronnie officially broke up for the last time in 2014, leaving plenty of time for Sammi to contemplate the unfollowing and finally carry it through. Right before Jersey Shore Family Vacation premiered in early April, she posted a statement on Instagram explaining her decision to not appear in the spinoff series:
I have chosen not to join the show this season because I am at a completely different place in my life right now focusing on my businesses and relationship. I am not the same person as I was when I was 22. At 31, I am currently extremely happy in every aspect of my life and want to avoid potentially toxic situations.
While she has kept her distance from televised group reunions, Sammi apparently had her share of snarky fun when Jersey Shore Family Vacation launched on April 5. TooFab reports that, during the premiere, the former reality star liked several tweets throwing casual shade at Ronnie. Of course, the premiere episode also introduced the now-infamous Sammi Sweetheart doll that Pauly D dragged to the cast's Miami home. In an interview with E! News, castmate Deena Cortese revealed that she told Sammi about the doll when filming wrapped, saying:
Me and Sam are super close, so as soon as I got home, I said, 'Listen girl, there's a Sammi doll in the house.' She was like, 'I'm not surprised.' She knows how it works and I think she's going to deal with it pretty well...She was like, 'That's just weird.'
Meanwhile, it doesn't seem that Ronnie follows Sammi on Instagram, so at least they have an understanding of keeping a healthy distance from each other. While Ronnie has reportedly broken up with Jen following their social media fight, Sammi is currently in a happy relationship with boyfriend Christian Biscardi (who does not look just like Ronnie, no matter what Pauly says).
Although it's troubling to see Ronnie act this way, I wouldn't blame Sammi if she feels that the best decision for her is to remain uninvolved with his life. We're wishing Ronnie, Jen, and new baby Ariana the best as they sort out their situation.
Jersey Shore Family Vacation airs on Thursday at 8 p.m. ET on MTV.