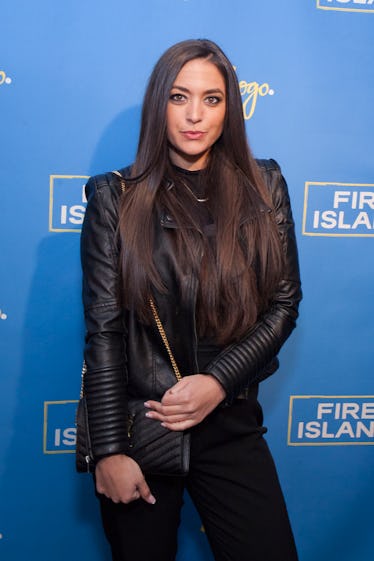 Here's How Sammi Sweetheart Reacted After Hearing About The 'Jersey Shore' Sammi Doll
Santiago Felipe/Getty Images Entertainment/Getty Images
If your former roommates (including an ex-boyfriend) had a sex doll representing you in their house that was the butt of many jokes, how would you feel? Well, Sammi Giancola is apparently taking the Jersey Shore Family Vacation running gag in stride. The Jersey Shore cast member decided to skip the 2018 spinoff of the iconic MTV reality show, but that doesn't mean she's not there in spirit. Or in plastic. What does she think of her replacement? Sammi Sweetheart's response to the Jersey Shore "Sammi Doll" sounds like she's cool with the whole thing. Pauly D divulged to Entertainment Tonight on Friday:
I have! I have [talked to her] and she gets the joke, she knows it was all in good fun, I'm glad too 'cause I was like, 'Shoot, I hope she doesn't hate me,' you know?
"I was, like, 'What do you think about the doll?'" Deena, a frequent defender of her friend Sammi, also explained. "And she was like, 'Whatever,' she was like, 'Actually, the voice box is pretty funny,' So I was like, 'See, she's a good sport!'"
Hey, Pauly D is the self-proclaimed "prank war champion," so he's always finding new ways to take his antics to the next level. Perhaps the Sammi Doll will make an appearance in Season 2... unless the real live Sammi decides to join her old roomies in Vegas.
Deena has weighed in on her pal's reaction to the notorious doll in the past, revealing to E! News in April, "Me and Sam are super close, so as soon as I got home, I said, 'Listen girl, there's a Sammi doll in the house.' She was like, 'I'm not surprised.' She knows how it works and I think she's going to deal with it pretty well."
"I think she is glad she made the decision not to come back," Deena explained to People last week.
Sammi is currently in a relationship and clarified her reasons behind opting out of Jersey Shore Family Vacation in a lengthy social media post in March.
"I have chosen not to join the show this season because I am at a completely different place in my life right now focusing on my business in relationship," a portion of her post read. "I am not the same person as I was when I was 22. At 31, I am currently extremely happy in every aspect of my life and want to avoid potentially toxic situations."
You can't blame Sammi for dodging a scenario she might not want to jump back into, expecially considering her ex-boyfriend Ronnie is involved. Just because she's on a TV show doesn't mean the events that transpire during filming don't affect her in a real way.
Sammi's cool with her decision, but has her tune changed at all? Prior to Family Vacation's debut, even Pauly had an inkling Sam would eventually come around.
"For somebody to say no to that at that time—all the media and everybody, all those comments, she must see them. She must want to do it," DelVecchio remarked in March. "She must want to do the second one."
It's not like Sammi has been completely absent in Season 1. In addition to that creepy mannequin version, the Jersey OG has come up in conversation quite a bit throughout the gang's time in Miami. After his roommates noticed Ronnie just couldn't help bringing her up, he opened up about his feelings regarding the broken relationship.
Sammi's Jersey Shore Family Vacation future isn't solidified just yet, so for now her doll will have to do. It's nice to know she's doing well and that she's cool with the joke, but I'm not going to "stahp" hoping she'll show up for Season 2...