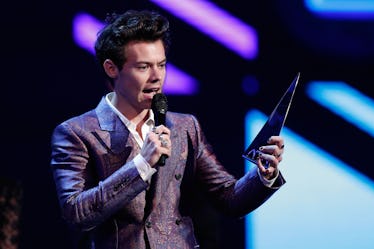 Harry Styles Filled In For James Corden On 'The Late Late Show' For The Best Reason
Zak Kaczmarek/Getty Images Entertainment/Getty Images
I just love a good celebrity bromance, don't you? Seth Rogen and James Franco. Ryan Reynolds and Jake Gyllenhaal. Justin Timberlake and Jimmy Fallon. All stellar examples. But the twosome I'm shipping so hard right now is the one made up of James Corden and a certain former member of One Direction, who just proved that he's basically the Best Friend Ever by swooping in to save the day when Corden's wife suddenly went into labor. That's right, our man Harry Styles Hosted The Late, Late Show, you guys, and he came straight from the hospital at the last minute to do it!
I mean, is that some superhero-level bromance stuff right there or what?
"I actually have some great news," Styles announced at the top of the show. "This is very exciting. Just half an hour ago, James and his wife Jules had a beautiful baby girl. In fact, I was just at the hospital before I came to fill in and she looks a lot like James. Mainly because James looks like a giant baby."
Good one, Hazza! And is it just me or does this guy seem super comfortable and confident up there on that stage?
See what I mean? But before you start getting all "OMG, he's so amazing at this and so freaking hot and I hope this gig turns out to be permanent," Styles is here to set the record straight.
"I, of course, realize this is James' show," he explained. "It's his show, and this is a one time only, one time thing. One time. Unless CBS likes what they see."
Smooth! And get this — Styles later went on to reveal that he was only given a few hours notice before being asked to sub for his bestie.
"I have to be very honest, it's not exactly how I saw my day panning out," he admitted. "I was at home two hours ago in this suit, obviously, and I got the call Jules was going into labor. So James naturally called the funniest man he knew. And, uh... he wasn't around so I'm filling in."
Self-deprecating charm FTW! I don't know about you guys, but my love for him just grew by like a billion.
Anyway, the adorable "Sign of the Times" singer then went on to expertly cover topics like Roy Moore riding a horse to go vote in the Alabama senate race – "I don't know too much about hoofed animals but I'm pretty sure that's an a*s" — and did an impressive job interviewing guests Owen Wilson, Joel Edgerton, and Jane Krakowski.
Of course, he also used the opportunity to address all the buzz surrounding the infamous front-seat smooch he shared with Corden on the previous night's Santa-themed edition of Carpool Karaoke.
"Over the past 24 hours, a lot of people having been talking about the kiss that James and I shared on last night's Christmas Carpool Karaoke," he began. "So I'd like to take an opportunity to announce that we will also be having a baby."
V. funny. But just FYI, I would be so there for that if it actually turned out to be true.
And by the way, if you haven't watched Harry plant one on James yet, you should check out the video below ASAP, because Miley and Pink and Ed Sheeran were there, too, and the whole thing is definitely some sort of straight-up Christmas miracle.
Obviously, the key to life is finding yourself a friend as funny and supportive as Harry.
And if he just so happens to have a killer set of dimples and a chiseled six-pack too, so be it.