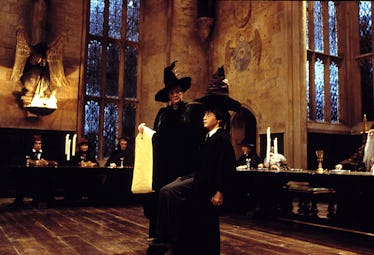 Find Your Hogwarts House With These 'Harry Potter' Sorting Hat Cookie TikToks
Warner Bros.
As a diehard Harry Potter stan, you're definitely still hoping an owl drops off your acceptance letter to Hogwarts School of Witchcraft and Wizardry. You've always dreamed of going to Diagon Alley to pick up school supplies, meeting fellow Hogwarts students, and getting sorted into your official house. While your particular owl is still MIA, you can have fun making some Harry Potter sorting hat cookies from TikTok to finally know if you belong in Gryffindor, Slytherin, Hufflepuff, or Ravenclaw.
Of course, you've probably taken every quiz possible, like the official Pottermore sorting hat quiz, and know for a fact which house you would sort yourself into, but now's the time to let your dessert decide. These seven Harry Potter sorting hat cookie recipes have surprise color reveals inside that are meant to tell you which house you belong in. On the outside, they look just like regular chocolate chip or butter beer cookies, but once you bite into them or break them apart, there are different colored M&M's or sprinkles inside that tell you the kind of which or wizard you are inside.
Make a batch for your Harry Potter movie night to snack on while you rewatch your favorite films, or send a few to your bestie to see what they get. There are quite a few sorting hat dessert recipes on TikTok for not just cookies, but sorting hat cupcakes and cake pops as well. So, go ahead and conjure up whatever you're craving for the sweetest house reveal ever.