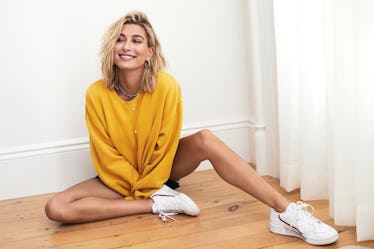 Hailey Baldwin Just Landed A Plum Job With A Brand You've Definitely Used Before
BareMinerals
It's always interesting to see which brands celebrities align with. Most recently, Bella Hadid surprised fans when she became the face of cult favorite label True Religion. Now, it's another Los Angeles beauty's time to breathe new life into a beloved 2000s brand. Hailey Baldwin's BareMinerals campaign proves that the cosmetics brand isn't going anywhere anytime soon and is even at the forefront of an important beauty movement. Get ready, because your beauty cabinet might once again be stocked with BareMinerals in the near future.
That's not the say that the brand hasn't experienced continued success since its initial launch. BareMinerals has consistently rolled out mineral-based beauty products for your face, eyes, and lips that's trendy and, of course, good for your skin. (As Elle pointed out, BareMinerals' commercials even used to state that its products were so clean you could sleep in them!) It's just that in a era where many brands tout their clean status at every opportunity, new clean beauty consumers may have inadvertently slept on the OG.
However, in light of the monumental shift towards clean beauty that the industry as a whole has made of late, it looks like BareMinerals could once again become the hottest brand around — getting to that point is where Baldwin comes in. Her official title with BareMinerals is Clean Beauty Ambassador, which is the perfect fit for her seeing as her mom, Kennya Baldwin, raised her with clean living in mind.
As Baldwin explained in a press release, "Becoming a BareMinerals ambassador is a natural fit because it aligns perfectly with how I choose to live my life. Clean beauty in all its forms is important to me and I love the fact that BareMinerals can deliver on this promise and still create products that are amazing for skin."
Pretty cool, right? Also new to the BareMinerals Beauty Ambassador crew is Rosie Huntington-Whitely.
"I love brands that celebrate beauty in a positive way...As a working mother, I need reliable products that are impactful and are also good for my skin, and BareMinerals delivers," said Huntington-Whitely in the press release.
Clearly, both new ambassadors (they're joining Black Panther's Letitia Wright, who teamed up with BareMinerals as its Power of Good ambassador in July) are passionate about the fact that they've aligned with a brand that values ethical practices and healthy products at its core. As the brand puts it on its website, "We believe makeup and skincare should not only make you look good but should also be good for your skin. So clean minerals are the heart and soul of every bareMinerals product..." It continues, "We are free of harsh chemicals and unnecessary additives including Chemical Sunscreens, Coal Tar, Formaldehyde, Mineral Oil, Microbeads, Parabens, Phthalates, Propylene Glycol, Triclosan and Triclocarban." In addition to the no-nasties messaging, the brand has pledged a charity component to coincide with its new initiative.
Considering BareMinerals have been dedicated to clean beauty since 1995, it's clear that the brand was way ahead of its now-competitors. It's why I've been using BareMinerals since college myself and why I trust that it's the best purveyors of quality, effective, and clean products out there. I think Baldwin would agree.