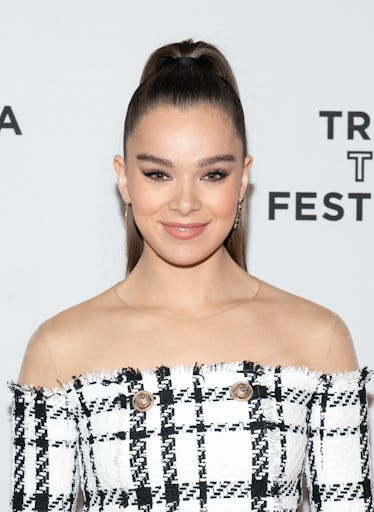 Hailee Steinfeld Took Credit For Joe & Sophie's Relationship For 1 Big Reason
Noam Galai/Getty Images Entertainment/Getty Images
I will never tire of hearing about the way certain celebs got together. You know... like, how Blake Shelton and Gwen Stefani met on The Voice. Or how Blake Lively and Ryan Reynolds got together while filming The Green Lantern. Or the way Dylan Sprouse DM'ed Barbara Palvin on Instagram. Ditto with Wells Adams and Sarah Hyland. Gotta love social media, am I right? Meanwhile, it turns out another super-hot couple hooked up on IG — albeit with a little help from a mutual friend. Have you heard Hailee Steinfeld's story about Sophie Turner and Joe Jonas? It's all just so sweet in an eighth-grade crush sort of way.
See, Steinfeld stopped by The Tonight Show Starring Jimmy Fallon on Oct. 9, where the host asked the Pitch Perfect 3 star about the rumor that she was the one who facilitated Turner and Jonas' meeting back in 2016.
"No, are they saying that?" she asked the host. "I will totally take credit for that, if they are saying it."
Interesting answer, right? So Steinfeld then elaborated, explaining that she did have some role in the hookup.
In case you need a refresher, Turner and Jonas first connected when the latter slid into the former's DMs on Insta.
"We were following each other on Instagram and he direct-messaged me one fine day, out of the blue," Turner told Harper's Bazaar U.K. back in May 2019.
Enter Steinfeld, who Turner then hit up for the 4-1-1.
"I definitely got the, like, 'Tell me about Joe Jonas' call,'" Steinfeld told Fallon. "Sophie and I have been friends for years. She's one of my favorite humans. And Joe and I worked together a couple years ago, and he is also a wonderful person. And it worked! I'll take credit for that, sure."
As for what, exactly, Steinfeld told Turner about Jonas, the world may never know.
"She called —'cause she knew that I knew him — and sort of asked for my opinion," the "Afterlife" singer explained. "I gave her the truth. I won't say everything I said to her. But... I gave her my stamp of approval. And now they're married!"
It's the perfect modern love story!
During her Tonight Show visit, Steinfeld also recounted her recent encounter with Oprah Winfrey at an event for the new Apple TV series, Dickinson, in which she stars as a millennial version of the 19th-century poet.
"It was the most insane thing," Steinfeld explained. "I debated saying hello. But then a million reasons not to do that came into my brain, so I didn't. But, then, before I knew it, Oprah sort of tapped me on the shoulder and said, 'Hailee, it's so great to see you.' And I forgot every word in the English language. I had no idea what to do with my hands. Then she asked for a photo, and I don't think I've ever looked happier in a photo."
So relatable, Hailee!
Anyhoo, the series will premiere on Nov. 1. In the meantime, be sure to check out the Dickinson trailer below: