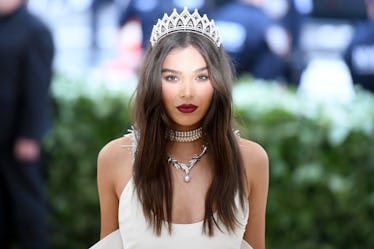 This Update On Hailee Steinfeld's Rumored Relationship With Niall Horan Is Romantic
Noam Galai/Getty Images Entertainment/Getty Images
There are lots of differences between famous people and regular people. Us regular people don't normally hit up award shows or rake in millions of dollars despite the fact that we can get most things for free. We don't have millions of followers on social media and we don't typically find ourselves on the covers of magazines. But Hailee Steinfeld's quotes about falling in love in her Cosmopolitan December 2018 cover story prove that there is one thing we do share in common with even our celeb counterparts: the feeling of falling hopelessly for another person.
Steinfeld, 21, has been rumored to be in a relationship with Niall Horan since February, according to People. (Elite Daily has reached out to their reps for comment.) Since then, the couple has reportedly been spotted kissing and Shawn Mendes, a friend of both of theirs, even slipped up in an interview by publicly confirming their romance. But Steinfeld and Horan have stayed mum on the matter.
While she was still not willing to confirm or deny her relationship with the pop star in her recent interview for Cosmopolitan's December issue, she did get very candid about how in love she is at the current moment.
"When you fall in love, you pick up on the tiniest things about yourself," she told Cosmopolitan. "I am one to spread out on the mattress and take up every inch of space. Now I don't want to do that anymore. I want to make as much room for you as possible."
See, you guys? Famous people find themselves hopelessly in love at times just like us!
Steinfeld also talked about how love has made her a more selfless person than she was before. "You start doing things for this person and going out of your way to make them happy," she told Cosmopolitan about being in love for the first time ever. "And when you see them happy, it makes you happier. When you love who you are with that person...there's nothing that compares."
As most of us — regular and famous people, alike — can agree, falling in love for the first time can be petrifying. But Steinfeld is ready to embrace the unknown. "I want to know what that's like," she told Cosmopolitan. "It's terrifying and amazing and feeling absolutely everything and being slightly afraid." So she's not holding back on love now, even if things don't work out.
Steinfeld's newest song, "Used To This," has lyrics about lovely mornings spent sharing breakfast in bed with a mystery bae.
The Cosmopolitan reporter interviewing Steinfeld also pointed readers towards the star's newest song, "Used to This," in which she sings about lovely mornings sharing breakfast and staying in bed with a mystery bae. And since Horan himself has told Cosmopolitan that he's "fantastic cuddler," it certainly makes sense if Steinfeld's new song was inspired by her personal experiences.
Here's to hoping we all find ourselves a love like Steinfeld's that pushes us to become more selfless, more in touch with who we are, and outstandingly happy.
Check out the "Best of Elite Daily" stream in the Bustle App for more stories just like this!