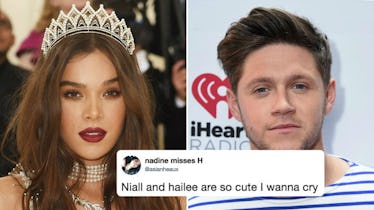 Niall Horan & Hailee Steinfeld Were Spotted Kissing, So I Guess They're Official Now
Jamie McCarthy/Getty Images; Michael Loccisano/Getty Images
Niall Horan and Hailee Steinfeld's relationship seems to be heating up. While the two stars have yet to officially confirm that anything romantic is going on between them, they've left enough clues for fans to determine that they're probably dating. Actually, this Niall Horan and Hailee Steinfeld relationship update pretty much confirms their romance.
On Thursday, Aug. 16, The Daily Mail published a new report that includes photos of Horan and Steinfeld getting more than cozy in Los Angeles. In the photos, you can see Horan and Steinfeld with their arms around each other while they share a kiss. If that's not confirmation of a romantic relationship, then they definitely have everyone completely fooled. You can check out the photos of Horan and Steinfeld kissing here.
Elite Daily reached out to both Horan and Steinfeld's reps for comment on this report and the nature of their relationship, but have not heard back by the time of publication.
In any case, things have been getting hot and heavy between them for quite a while, so it's about time fans got some kind of confirmation.
Back in May 2018, Horan and Steinfeld were spotted out and about in Los Angeles, where they (again) were showing some serious PDA. At the time, a source told People magazine that Horan and Steinfeld weren't afraid to show how much they cared for each other.
"Niall had his arm around Hailee and they were holding hands," the source told People in May. "They definitely looked like a couple."
It wasn't until now that there was actual photographic evidence of more-than-friends PDA to prove their relationship was, well, more than friendly.
Horan and Steinfeld originally sparked romance rumors back in February 2018 when they were seen together at a Backstreet Boys concert.
At the time, a fan posted a few videos of them having a great time at the show and everyone went wild over it. Not long after, a source close to the two stars told People that Steinfeld wasn't really looking for a romance:
"She's not actively pursuing anything," the source said at the time. "Niall is really into her but she's unsure if she wants to get into something new right away. They've been friends for a long, long time and are very comfortable with each other. But it's nothing serious right now."
Well, it certainly seems serious now. And their fans are ecstatic about it. For many, Horan and Steinfeld are the definition of #RelationshipGoals:
A lot of people are just super happy that their faves found love:
Needless to say, Horan and Steinfeld's fans are over the moon about finally having some kind of relationship confirmation. You can't blame them, really. They've been waiting for months to know whether all those romance rumors were actually true and now the wait is over. Hopefully the fans don't get too overzealous and give Horan and Steinfeld the space they need right now. Going public with romance is a big step, so they're going to need time to figure it all out!